The Sanctuary for Senior Dogs |
home


Old Dog Stories

Have you adopted an older dog? Feature your dog's story here on our web site. Send a picture of your senior friend and the story of his or her adoption. Your story will be included here. To submit the story of your great old friend,
contact the Sanctuary
.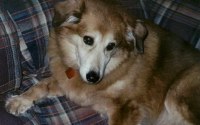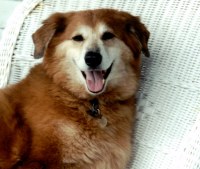 Nutmeg, a sweet old dog rescued from an area humane society.
The Story of Sanctuary: Ralph & Samantha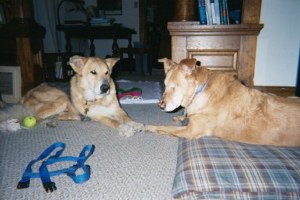 Ralph and Samantha were the very best of friends. Although Ralph was deaf and Samantha was blind, they spent hours together lying in the sunshine enjoying each other's company. Here is their story, which is also the story of the birth of The Sanctuary for Senior Dogs.
When I first met Samantha, she was 11 years old and had been recently blinded in a fire. My heart immediately went out to this strong-willed survivor. Beneath the burns, the scars, and the missing eyes was a beautiful, loving dog. I knew that Sammie and I were meant to be together, so she made the long journey from
Best Friends Animal Sanctuary
, where she had received loving care for most of her life, to her new home in Ohio with two senior dog friends, many cat friends, and me.
Sammie adjusted quickly and gracefully to her new circumstances; she learned her way around the house and yard and began enjoying daily walks and occasional trips to the park and the lake. Sammie blossomed into a real character: She stole treats from my shirt pocket, shredded the student essays I had brought home to grade, and perfected the art of stubbornness. Even though Sammie was blind, she quickly learned to trust me. She would break into a run during our outings at the lake, throwing her head back with joy. She could pick up the scent of a decaying fish from hundreds of feet away and run to it with unerring accuracy. Sammie also loved to be touched, grunting loudly to show her pleasure.
Three months later, I adopted Ralph from the
Geauga Humane Society
, where his rescuers had taken him. Ralph was an emaciated, deaf, 10 year-old-German Shepherd mix who had been chained outside without adequate food or water for most of his life. When he came to live with us, Ralph did not know how to eat from a bowl, nor did he know how to enjoy moving about freely without the limitations imposed by his chain. For weeks, he paced in restless circles day and night.
In time, however, Sammie and my other senior dogs taught Ralph to eat from a bowl and to enjoy life as a loved and valued family member. As he settled into his new life, Ralph woke me each morning with a nudge of his nose or a quick kiss. He sat by my side as I worked, sometimes laying his head in my lap. Ralph's gentle spirit filled the house and touched everyone who met him.
Ralph and Sammie soon became the best of friends. They enjoyed weekly massage treatments together and crowded around the table jostling each other when I opened a bag of pita bread. They were never far from each other, often sitting together just passing the time, sharing a patch of sunshine, and holding paws.
Ralph's health was always delicate because of his past neglect and abuse, and on March 22, 2000, Sammie lost her best friend and I lost a cherished companion after enjoying his friendship for only five months. With Ralph's passing, Sammie lost some of her own joy of living. She grieved for Ralph and clearly missed his constant companionship. During her first massage treatment without him, she became agitated, broke from the therapist, and ran recklessly through the house. When I put Ralph's collar around her neck, she seemed to sense his presence and became much calmer.
Fourteen months from the day we met, kidney disease took Sammie from me on September 11, 2000. In less than six months, two of my special friends were gone. But during our time together, Sammie, Ralph, and I shared love, adventure, and a wonderful awareness of having found each other.
They gave me so much and asked for so little in return. Ralph, my gentle, loving spirit, taught me that love can fill up all the hurt places if we only let it. And Samantha, my beautiful blind dog, taught me that seeing with the heart is the clearest vision of all.
Copyright 2001-2023
No part of this web site, including photographs, may be reproduced without written permission