The Sanctuary for Senior Dogs |
home


Please Foster/Adopt Us!

The dogs featured on this page are available for adoption from The Sanctuary for Senior Dogs. All have been altered and provided with necessary medical care; they have all lived in a foster home prior to adoption. Our dogs are indoor dogs, looking for a home in which they will live indoors as valued family members. Please see the Adoption Policies and Procedures to the left of this page.

Please do not post our adoptable dogs without our written permission. The Sanctuary for Senior Dogs does not euthanize our dogs for space. A senior dog in our program has a place for life.

Dogs featured on this page are not generally in need of foster caregivers unless specified. But we welcome your application to foster a deserving senior dog. Without our fosters, we cannot save old dogs abandoned in Ohio pounds and shelters.

So please consider fostering or adopting a senior dog. You will not only save a life but you will also gain a devoted friend.
All of our senior dogs require medical treatment, sometimes extensive. If you would like to help us with the high cost of rescuing senior dogs, please consider making a donation to support our work. You can mail your donation to PO Box 609054, Cleveland, Ohio 44109, or you can click the link below to donate through PayPal. All donations are tax deductible and will be acknowledged. Thank you for caring about abandoned old dogs. Old Dogs, Great Friends!
WE ARE NEW!
All are being evaluated and treated for medical concerns and will be updated when they are ready for adoption.
In need of a foster home!
Scooby
, a 10-year-old Boxer/Pit Bull mix, is a big, goofy sweetheart of a dog. When he arrived from City Dogs Cleveland (Animal Care & Control), he had deep wounds from an embedded collar. He was also very thin and infected with heartworm disease. Despite these issues, Scooby is lovable and friendly. Some of his favorite things are treats, car rides, snuggling, and going to the vet. Scooby will be available for adoption after his heartworm disease is treated and he has had a much needed dental and been neutered. We will provide more information about Scooby. But he is available now as a foster dog or a foster-to-adopt dog. for more information on how you can help Scooby, please
contact the Sanctuary.

Harley, a senior Collie mix that found himself alone when his person entered the hospital and was not returning. He is a happy, well-adjusted fellow as these pictures taken the day he arrived show. He has a large tumor that needs to be removed and a dental on some of the worst teeth was have seen in a while. We will update when his medical needs have been met.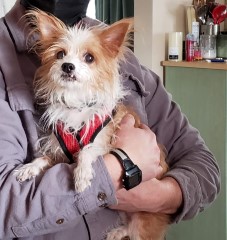 Sylvia, an adorable 9-year-old scruffy Terrier picked up by Cleveland Animal Care & Control as a stray in the cold of winter, is a snuggly, sweet little dog. She is healthy overall and will be spayed and have a dental this month. We will update after her surgery.

Moby, a geriatric Yorkie mix, came to the Sanctuary after being found wandering the Cleveland Metroparks on a cold winter day by a Good Samaritan who rushed him to an area animal hospital. While that would be a frightening experience for any dog, it must have been especially so for Moby, a deaf and blind little fellow weighing only 4.5 pounds. In addition, he has no teeth and is missing his lower jaw. After a week in his foster home, he is slowly becoming more relaxed as he begins to heal and feel better physically. He will become part of our Forever Foster program so that he will never have to adjust to new surroundings again.
Picture of Moby courtesy of Portraits by Martha

Clementine
, an adorable senior mixed breed with a smile to melt your heart, recently arrived from City Dogs Cleveland (Animal Care & Control). She has several serious health issues, including mammary masses, arthritis, and possibly some early dementia. She will likely enter our Forever Foster program as a hospice dog enjoying her life for as long as her quality of life allows. Clementine has left the hospital after a stay of nearly a month battling kennel cough and other issues. She is recovering and gaining strength in her foster home and will be scheduled for surgery as soon as her health permits. You can help us support Clementine's medical needs by
becoming a sponsor
or by making a one-time donation using the link to the left.

Prince, 13-year-old Chihuahua, was removed from his person's assisted living home when he continued to run away. When the Sanctuary became aware of him, he had been living in his old home alone. His person went to care for him as often as she could, but Prince needed the warmth and security of a home. His situation was desperate, so the Sanctuary made room for him in a foster home that absolutely loves Chihuahuas. He was shut down and leery of his new people when he arrived, but he is slowly coming out of his shell. We hope that Prince now knows that he is safe and will never be alone again.

TC, an 18.5-year-old Dachshund mix, was left alone when his person entered hospice and was clearly not coming home. Poor TC (short for Too Cute) was so despondent that he would not leave his person's bed. A kind neighbor looked after TC and contacted the Sanctuary. He is now in a Forever Foster home that he shares with several other little dogs that have become his fast friends. It took some time for him to come out of his shell and begin to interact with his caregivers, so at his age and with his background, we do not feel it would be fair to move him again. And that's just fine with TC!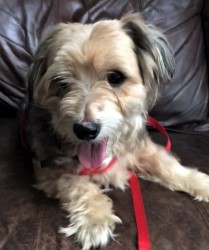 CJ, a senior Yorkie mix from City Dogs Cleveland (Animal Care & Control), is a sweetheart of a dog and will likely join our therapy dog program to represent the Sanctuary as a sponsored therapy dog. He is currently in a therapy dog class and is excelling at everything asked of him.

PLEASE ADOPT US!
Jax is a 6- to 7-year-old Chihuahua mix, happy and friendly, came to the Sanctuary covered in ticks and was, not surprisingly, diagnosed with anaplasmosis, a tick-borne disease. He has been neutered and completed his medical treatment. Running and playing with other dogs are two of Jax's favorite activities. In typical small dog fashion, he can be a little nippy if he is startled or pushed beyond his comfort zone. He will do best in a home with experienced small dog handlers, a fenced yard, and a friendly dog.
Picture of Jax on the right courtesy of Portraits by Martha.

In addition to the dogs offered for adoption, the Sanctuary cares for
Forever Foster
dogs in permanent Sanctuary homes. They are not available for adoption, but you can sponsor one of them if you would like to help us with the ongoing costs of our hospice and permanent foster dogs. Click here to go to the
Forever Fosters
page. If you are interested in fostering an adoptable dog or a permanent foster dog, please
contact the Sanctuary
. Your work will save the life of an abandoned old dog.
Click here to donate to the Sanctuary through the secure PayPal site.
© 2001-202 1
Please do not post our adoptable dogs on any other web site without our written permission.
No part of this web site, including photographs, may be reproduced without written permission