The Sanctuary for Senior Dogs |
home


Please Foster/Adopt Us!

The dogs featured on this page are available for adoption from The Sanctuary for Senior Dogs. All have been altered and provided with necessary medical care; they have all lived in a foster home prior to adoption. Our dogs are indoor dogs, looking for a home in which they will live indoors as valued family members. Please see the Adoption Policies and Procedures to the left of this page.

Please do not post our adoptable dogs without our written permission. The Sanctuary for Senior Dogs does not euthanize our dogs for space. A senior dog in our program has a place for life.

Dogs featured on this page are not generally in need of foster caregivers unless specified. But we welcome your application to foster a deserving senior dog. Without our fosters, we cannot save old dogs abandoned in Ohio pounds and shelters.

So please consider fostering or adopting a senior dog. You will not only save a life but you will also gain a devoted friend.
Come meet your new best friend at our Adoption Sunday Open House on October 25, 2020, from 2-4 PM at our new address 4860 Broadview Road, just a few blocks south of our old location. Please observe social distancing and wear a mask. Disposable masks are available. Visitors are limited to one person, one couple, or a maximum of three people from the same household at a time in the building. If people are waiting, we ask you to limit your visit to 10 minutes.
All of our senior dogs require medical treatment, sometimes extensive. If you would like to help us with the high cost of rescuing senior dogs, please consider making a donation to support our work. You can mail your donation to PO Box 609054, Cleveland, Ohio 44109, or you can click the link below to donate through PayPal. All donations are tax deductible and will be acknowledged. Thank you for caring about abandoned old dogs. Old Dogs, Great Friends!
WE ARE NEW!
Several dogs came to us recently. All are being evaluated and treated for medical concerns and will be updated when they are ready for adoption.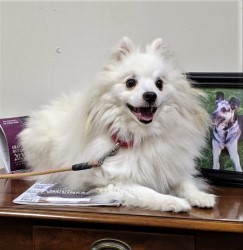 Brady, 10-year-old Pomeranian/Eskimo mix. Friendly and full of fun, Brady is being treated for bronchitis, anaplasmosis, and Lyme Disease. He is a popular fellow and will be available once his treatment is complete and he has had a much-needed dental.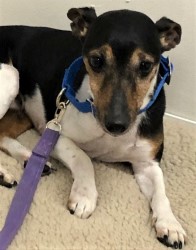 Mirra, 8-year-old JRT, just arrived and is healthy with the exception of some severe dental disease. She also has slightly elevated liver enzymes--not uncommon in new rescue dogs. She has started on supplements for her liver and will be reevaluated in a month for spay and dental. She is a bit shy and withdrawn at first but warms up to people who are kind to her quickly. We will update as more information becomes available.

Jax is a 7-year-old Chihuahua mix, happy and friendly currently being treated for anaplasmosis, a tick-borne disease. Jax loves running and playing with other dogs. He is scheduled for a neuter at the end of September and will then be available for adoption.
Picture of Jax on the right courtesy of Portraits by Martha.

Sandy, a senior Husky, is the newest Sanctuary dog. She has left the veterinary hospital and is settling into her foster home with ease. Her health check up was good overall, so we are hopeful that she will be available for adoption soon.

Dash is a 6- to 7-year-old hound mix. He seems to be a happy, energetic guy and enjoys the company of other friendly dogs.
Update: Dash is heartworm positive and has been diagnosed with ehrichiosis, a tick-borne disease. He will be treated for both and then neutered before being available for adoption.

PLEASE ADOPT US!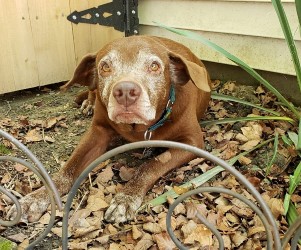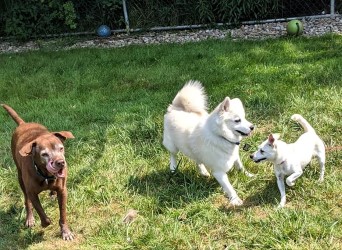 Dezmond, 9-year-old Lab mix from Cleveland Animal Care & Control, went straight from the shelter to an area vet clinic because he seemed so shut down that the shelter feared he was very ill. His exam revealed horribly infected teeth that were very painful but no other health issues. He had a dental that didn't go well, so he had a second dental and has now recovered completely.
Very shy on first meeting, Dezmond will learn to trust once he knows you are his friend. He loves to be stroked and cuddled and to run, chase his toys, and play in a securely fenced yard. Napping in a patch of sunshine, Dez knows how to relax and enjoy the day. He is very friendly with other dogs and would do best in a home with one or two friendly dogs as pals that do not mind his need for closeness. Although he has not been around cats, we believe he would be okay since he does not chase the squirrels in the yard. Rather, he sits and watches them without reaction while the other dogs bark and chase.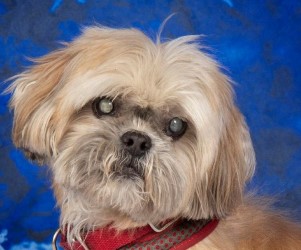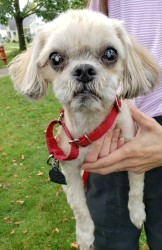 Meet Markie, a 7-year-old Shih Tzu mix came to the Sanctuary from Lucas County Canine Care & Control frail, severely underweight, frightened, and ill, so much so that he could not be safely groomed without stressing him. We cleaned him up as best we could and cut out some mats. But over his time with us, he has regained his health and is now available for adoption. Markie is blind but that doesn't stop him from enjoying his life, taking walks, and snuggling with his foster family.
Photo of Markie on the left courtesy of Portraits by Martha.


Kenny,
10- to 12-year-old Maltese mix. Blind and deaf, Kenny enjoys his life with people and other dogs despite what some would think of as drawbacks. Sweet and loving, he was treated for skin issues and had a much needed dental. He came to us already neutered, so Kenny is ready for the next step in his adventure. He will make a loving companion to the family lucky enough to adopt him.
*Kenny is being evaluated as a Sanctuary therapy dog and has begun his training, so he is not available for adoption currently.
Sad Update: Kenny crossed the Rainbow Bridge suddenly and unexpectedly when a vet visit revealed a large abdominal tumor that our vet believed was causing him a great deal of pain. He had such promise as a therapy dog and was a loving member of his foster family. Gone far too soon, go gently, Kenny, on the rest of your journey. You have left many friends behind.
Photo of Kenny on the left courtesy of Portraits by Martha.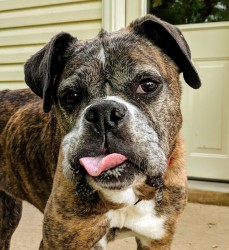 Josie, a 10-year-old Boxer, arrived in May of 2019 from Lucas County Canine Care & Control. She was a bit reserved at first, but quickly became friendly seeking attention from her foster caregiver. She does fine with friendly dogs and has recently had a mass removed and a dental. The mass was a low-grade mast cell that will bear watching but does not pose an immediate threat. At a recent Adoption Sunday, she was relaxed and comfortable, greeting visitors with a wagging tail. She is an easy-going dog and will make a fine companion to the family lucky enough to adopt her.
*Josie is being evaluated as a Sanctuary therapy dog and has begun her training, so she is not available for adoption currently.

In addition to the dogs offered for adoption, the Sanctuary cares for
Forever Foster
dogs in permanent Sanctuary homes. They are not available for adoption, but you can sponsor one of them if you would like to help us with the ongoing costs of our hospice and permanent foster dogs. Click here to go to the
Forever Fosters
page. If you are interested in fostering an adoptable dog or a permanent foster dog, please
contact the Sanctuary
. Your work will save the life of an abandoned old dog.
Click here to donate to the Sanctuary through the secure PayPal site.
© 2001-2020
Please do not post our adoptable dogs on any other web site without our written permission.
No part of this web site, including photographs, may be reproduced without written permission