The Sanctuary for Senior Dogs |
home


Graying Muzzles Calendar & Photo Contest

Scroll down for 2022 Graying Muzzle Winners.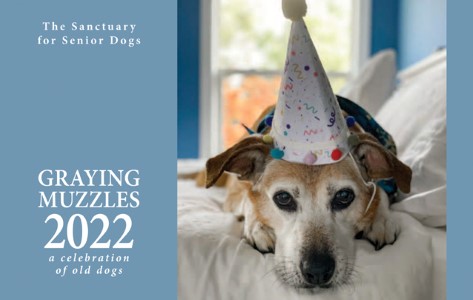 Order your copy of Graying Muzzles 2022
Graying Muzzles 2023 photo contest is now open!
Wanted! Beautiful old gals and handsome old fellas for
Graying Muzzles 2023 photo contest
Enter your senior dog (age 7 & older) in our annual photo contest!
The winners will be featured in our 20th annual calendar.
HOW TO ENTER (entry form below):

Select your photo: High-resolution digital images* are preferred; 4"x6" or larger photos
printed on photo paper
are also accepted. Photos on plain paper or photos that are folded cannot be considered.

Complete the entry form: Include a biography of your dog or a story that shows his personality. And tell us the one greatest thing about your senior dog.

Submit your entry:
To email
your entry, send your digital image, bio/story, and entry form to gm23@sanctuaryforseniordogs.org. Mail your $10 entry fee with a copy of your entry form to the Sanctuary. We cannot accept online entry fees; they violate PayPal's terms of service.
To mail
your entry, send your photograph, the entry form, bio/story, and $10 entry fee to the Sanctuary.
*A photo must be able to enlarge to fit the calendar without causing the image to pixelate. Generally, a high resolution image is 300 DPI and 1200x1800 pixels for a typical calendar sized image (4"x6").
THE FINE PRINT:

The contest is open to all senior dogs (7 years and older at the time of the photo), including those who have already crossed the Rainbow Bridge. Please include only senior dogs in your photos; we cannot accept photos that include people, other animals, or younger dogs.

All entries must be signed and submitted by the legal owner of the dog and the photograph. Professional photos are acceptable if you have purchased the rights to the photo. No credit will be given to the photographer.

You may enter as many times as you like, but a $10 entry fee and a separate entry form must accompany each entry.

Email or postmark your entries by October 1, 2022.

Photos will be judged by an impartial panel; the decision of the judges is final. Photos will not be returned and may be used to promote the Sanctuary and its programs.

Winners will be posted on our website around October 31, 2022.
Graying Muzzles 2023 Photo Contest Entry Form
My Dog's Name:
My Dog's Breed or Mix:
My Dog's Age:
Short bio (50 words or fewer):
The one best thing about my dog (15 words or fewer):
Your name:
Address:
City, State, Zip:
Phone: Email:
If my dog's photo is selected, I agree to its use in the Graying Muzzles 2023 calendar, proceeds to benefit The Sanctuary for Senior Dogs.
Signature (must be dog's legal owner):
Date:
Return completed entry form (with photo if not submitted digitally) and $10 entry fee (check or money order) to:
The Sanctuary for Senior Dogs
P.O. Box 609054
Cleveland, OH 44109-0054
Attn: Graying Muzzles 2023 Contest
POSTMARKED BY OCT. 1, 2022!
If you email your photo and entry form, please include a copy of the entry form in your envelope with entry fee.

Winners of Graying Muzzles 2022:
First Place (large monthly pictures in order from January through December):
January: Chance DeSalvo
February: Champ Onysko
March: Whiskey Davis
April: Olive Trosino
May: Delta Hannah
June:Garth & Alf Craycraft
July: Murphy Goldberg
August: Sugar Coffman
September: Fletcher Denallo
October: Olivia Hughes
November:Odie Bushley
December: Uncle Eddie McKee
Honorable Mention (small monthly pictures in order from January through December):
January: Romeo Korte
February: Bella Murray
March: Poppy Becker
April: Sassy DeSalvo
May: Moxie Bhaiji
June: Piper Dzigiel
July: Bella Smith
August: Mocha Davis
September: Yasa Sherman
October: Ruby Cavanaugh
November: Jade Mamich
December: Maggie Mae Zorc
All winners will receive a free copy of Graying Muzzles 2022, so be sure we have a current mailing address on file for you.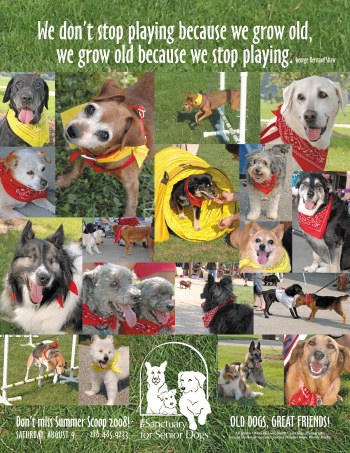 Copyright 2001-2022
No part of this web site, including photographs, may be reproduced without written permission