The Sanctuary for Senior Dogs |
home


Adopted, 2003-2004

The dogs featured on this page have been adopted from The Sanctuary for Senior Dogs in 2003. The Sanctuary assists in the placement or rescue of many more dogs that are not featured here.

Joshua
. October 2003. 7-year-old Poodle, came to the Sanctuary from the City of Cleveland Kennel (local animal control). He appeared on TV 3 and went to his new loving home quickly.

Fred
. November 2003. 6-year-old Golden mix from the City of Cleveland Kennel. Went to his new home after two appearances on TV 3. A laid-back fellow who is a hit with everyone who meets him.

Chico
. November 2003. 10-year-old Chihuahua from the City of Cleveland Kennel. Went directly to a new, loving home after his neuter and health check.

George II
. December 2003. 8-year-old Yellow Lab from the Wayne County Humane Society was adopted by his foster care giver after a week. A charming, loving fellow.

Seamus
. December 2003. 8-year-old Yellow Lab adopted by Sunrise Assisted Living on the east side of Cleveland.

Sweet Pea
. January 2004. 10-year-old toy Poodle picked up as a stray by the City of Cleveland Kennel. She was starving to death and bone thin. Her appearance on a local TV show resulted in over 115 calls to the Sanctuary. She will take up permanent residence in her new home as soon as she is spayed.

Miles
. February 2004. 10-year-old Shih-Tzu from the City of Cleveland Kennel was adopted by a loving family after an appearance on TV 3.

Winnie.
February 2004. 8-10 y/o Pomeranian from the City of Cleveland Kennel was found wandering the streets. Winnie has no teeth, but she is full of love. She went to a wonderful new home after an appearance on TV 3.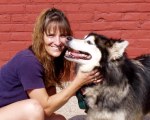 Nanook. June 2004. Nanook, a 6-7 y/o neutered male Malamute/Husky, was impounded by the City of Cleveland Kennel when his people moved and left him behind without a backward glance. His original family lived next door to a Sanctuary volunteer who quickly claimed him for the Sanctuary. For all of his years of neglect, Nanook is friendly and full of energy, but he has a very low stress level, and he will snap if pushed beyond his comfort zone. Because of Nanook's behavioral issues, he was not adoptable in Ohio, but he is living happily at Best Friends Animal Society in Utah.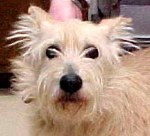 Muffin. March 2004. Muffin, a medium-sized, 10 y/o tan Benji-type dog, came into the Sanctuary from the Wayne County Humane Society. She is very sweet-natured and absolutely adorable. She went to her new foster home where she immediately made herself at home on the couch next to Steve, her foster caregiver. It is no surprise that Muffin's foster home with Steve soon became her permanent home. Muffin has recently undergone surgery for a stomach tumor, but she is recovering at home with Steve.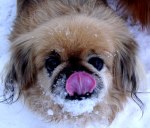 Chloe Jane (CJ). June 2004. Chloe Jane, a 10 y/o Pekingese, was picked up as a stray by the City of Cleveland Kennel. Since Chloe Jane is partially deaf and partially blind, being a stray must have been completely terrifying for her. She is friendly with everyone she meets, and her favorite activities are kissing and cuddling. Chloe Jane tested positive for heartworm and has successfully completed her treatment. Chloe Jane found her perfect home with Larry and Joanne and their 14 y/o Bichon Cuddles.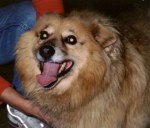 Chip. April 2004. Chip, now known as Skippy, an 8-year-old American Eskimo/Golden Retriever mix, came to the Sanctuary from Cleveland animal control. He is very overweight, but otherwise healthy and happy. He is laid-back fellow who is happy in his new home with an older gentleman who has become Chip's best friend. They share daily play time and lots of cuddle time.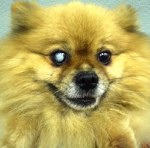 Teddy Bear. April 2004. Teddy Bear, an 8 y/o Pomeranian, came to the Sanctuary from Ashtabula County. He is blind in one eye, but he is otherwise healthy and happy. He loves to play and cuddle and just be an all-around good family member. Teddy Bear is house trained and friendly with other easy going dogs and cats. Teddy Bear found his forever family and enjoys being the center of attention in his new home.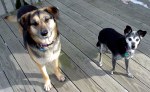 Lily. February 2004. Lily, a 7 y/o Shepherd mix from the City of Cleveland Kennel, is pictured here with her new best friend Maya (Maya is Miss November in the Sanctuary's first calendar). Eleni and Joe found Lily (the large girl on the left) at animal control and brought her home as a foster. The rest is history. After a few short weeks, Joe and Eleni decided that Lily belonged in their home for life. Maya is not as thrilled, but she is slowly coming around. Maybe she will like Lily better when Lily completes the therapy dog training class this spring.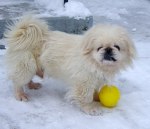 Pitzy/Buster. February 2004. Pitzy (whose new name is Buster), a 7 y/o, blind, white Pekingese, was picked up as a stray by the City of Cleveland Kennel. In spite of his past neglect, Buster is very intelligent, very self-sufficient, and very affectionate. He learns his way around new places with quickness and ease. Blindness is definitely not a handicap for him. He loves his yellow ball almost as much as he loves to be the center of attention. Buster recently passed the Sanctuary's therapy dog class, and he will begin work as a registered therapy dog this summer. Buster is going to show the world what an older blind dog can do!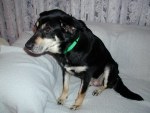 Foxy. January 2004. Foxy, a 7 y/o Gordon Setter/Shepherd mix, was picked up by city animal control as a stray. If you are looking for a fun, lovable dog who would make an excellent addition to any family, Foxy is your lady! She likes cats, dogs, and older kids. And she loves to play with her toys and soak up the attention. She is a big sweetheart, a true diamond in the rough; she loves her new home with another dog named Rudy.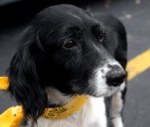 Lacey. January 2004. Lucy (formerly Lacey), a deaf, 8-9 y/o Setter/Spaniel mix, came to the Sanctuary from Knox County. She is a sweet, lovable, gentle dog who has successfully completed her treatment for heartworm, been spayed, had a large hernia repaired and several small mammary tumors removed. Lucy is a very laid-back girl, but she prefers the company of humans to other dogs. She has found her own special home with Jack and Kathy; her favorite companions seem to be the grandchildren who visit on weekends. Lucy successfully completed the Sanctuary's therapy dog class in June 2004; Lucy and Jack will visit the hospitals that helped Jack recover from a recent serious illness.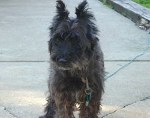 Scrubbs. November 2003. Scrubbs, whose new name is Cookie, is an 8-year-old Miniature Schnauzer who was found as a stray and kept in the yard of a Good Samaritan until the Sanctuary took her in; she was quickly adopted by Ravella, her foster caregiver. Cookie is a sweet-natured dog who loves to cuddle with her new best friend.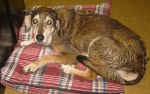 Mitzie. November 2003. Mitzie, a 13 y/o spayed, female, Shepherd/Hound mix, came from the same sad situation as Tasha (see adopted senior dogs), but Mitzie became very ill while at the City of Cleveland Kennel. The Kennel saved her life and took care of her immediate medical needs. She then came to the Sanctuary. Mitzie recuperated in a Sanctuary foster home until Chuck found her on the Internet, and a match was made. She is a pleasant dog, easy going and affectionate. And she loves her new home in the country with lots of love and lots of short walks.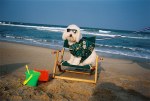 Bentley. October 2003. Bentley, a 7-year-old Poodle from the City of Cleveland Kennel, went quickly to his new home after an appearance on TV 3. He is the center of his new family's life, and he has settled in quickly. He is shown here on vacation at the beach soaking up some rays. Bentley has made the incredible journey from inner city stray to valued family member, beach bum, and all around lucky dog!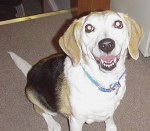 Mimi. October 2003. Mimi, an 8 y/o Beagle mix, was picked up as a stray by Cleveland animal control. She was so anxious in the kennel that she stayed in the office much of the time to quell her fears. But she responded well top the love and care first of her foster family, and now of her very own loving family. Mimi loves to sleep on the couch and cuddle up to watch TV.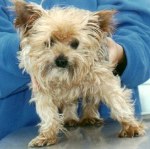 Flash. September 2003. Flash, a 10+ y/o little Yorkie boy, came to the Sanctuary when a volunteer discovered that he was to be taken to the APL to be put down. Flash was in desperate need of medical care for a serious bladder and skin infection. He responded well to treatment, and before he even hit the web page, Patti and Rich adopted him in memory of their little Yorkie mix Cory who passed away the week before. Cory, too, had been adopted from the Sanctuary eighteen months earlier. Patti and Rich understand and value the love a senior dog has for his family. Flash is living the high life with his new family and Frankie, his new canine pal.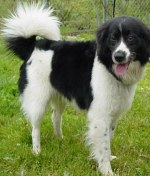 Domino. September 2003. Domino came to the Sanctuary from a southern Ohio county where he had been turned in to animal control because his guardians simply did not want him any more. He is a 7 y/o neutered male Border Collie/Spaniel mix. Domino is friendly with people and other dogs as long as they are not aggressive to him. His guardians reported that he had never seen a vet in all of his seven years. In spite of the neglect he must have experienced, he is healthy, heartworm negative, and had a normal blood screen. Domino recently went home with Maryann, Sandi, and Patrick, his new, loving family who first met him at Greyhound Days in early September. They report that Domino is the perfect dog, well-mannered and a great companion.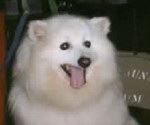 Fritzie. September 2003. Fritzie, a 10 y/o, neutered male American Eskimo from the City of Cleveland Kennel, was picked up as a stray. Fritzie is a friendly, outgoing guy who just loves to share your dinner with you. His teeth were so bad that all but three of them had to be pulled, but Fritzie doesn't let his lack of teeth interfere with his enjoyment of food. One of Fritzie's favorite activities is looking out the window when he cannot be outside playing. At the 3rd annual Sanctuary Reunion, Fritzie met Sondra and her best friend Ernie, a 10 y/o American Eskimo that Sondra adopted from the Sanctuary last year. Just two weeks later, Fritzie had moved in with Sondra and Ernie (and, of course, Juneau, a younger American Eskimo and Holly, a sweet Sheltie); he and Ernie have become the best of friends. Look for new pictures of a sleek, newly groomed Fritzie soon.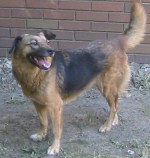 Tasha. September 2003. Tasha, an 8 y/o Beagle/Shepherd mix, found herself and her seven canine companions adrift and frightened in the City of Cleveland Kennel when her beloved guardian passed away. Determined to save every one of the dogs, Shandra worked tirelessly to find them homes or rescues. Tasha appeared on television, but no one applied to adopt her, so she came to the Sanctuary to await a new home. It did not take long until Gayle and Gary discovered Tasha and took her home to forget her past sadness and live happily ever after with them and her new best canine pal, Darby.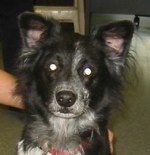 Dixie. August 2003. Dixie, an 8-9 y/o Border Collie was picked up as a stray on the streets of Cleveland. Through a joint effort with the City of Cleveland Kennel and The Sanctuary for Senior Dogs, Dixie has taken up residence with Miracle at Sunrise Assisted Living in Rocky River, OH. Dixie is somewhat of a celebrity. She starred in a recent TV spot about dogs in assisted living facilities. We are proud of Dixie and her friends Miracle and Hans. Hans lived at Sunrise for seven months until he crossed the Rainbow Bridge. UPDATE: Dixie returned to the Sanctuary when the management at Sunrise changed. She has been diagnosed with Cushings disease and was adopted in June 2004 by Jennifer who loves her tremendously and has undertaken care of her disease management.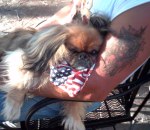 Yoda. August 2003. Yoda, a 10 y/o Pekingese, had been adopted from the Sanctuary two years earlier, but developed some behavioral problems that became increasingly difficult for his new family to handle. Yoda came back to the Sanctuary and went into foster care with Michelle and Bob who quickly fell in love with him despite his problems and applied to adopt him. Yoda's problems are not as serious as they had been, but they are still with him. He seems to relate very well to men, so Bob is his new role model and best friend.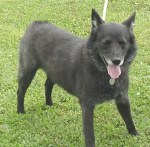 Louise. August 2003. Louise, a 7 y/o Spitz mix, came to the Sanctuary from a southern Ohio county in order to escape the gas chamber. She is full of life and energy and makes a wonderful companion for Dawn and Jay and Laney, their 7 y/o dog that looks amazingly like Louise. Louise is definitely not a couch potato; and she enjoys the energy in her new home. She has also been seen rolling around on her back on her new couch. It seems that Louise may be just a bit of a couch potato after all.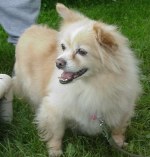 Tootsie. August 2003. Tootsie, a 10 y/o Pomeranian mix, was a terrified, emaciated little girl when a Sanctuary volunteer first saw her at Cleveland animal control. In fact, she was so ill and frightened that we thought there was little hope for her, but we wanted to give her a chance. A veterinary checkup, including blood tests, revealed no major health problems except for the effects of long term starvation. But Tootsie was so frightened that almost no one could handle her. Her two-day stay at the vet clinic proved to be a challenge for all the employees. Incredibly though, after just one week of TLC first in a wonderful boarding kennel and then in her new foster home, Tootsie had come miles from her difficult beginning with the Sanctuary. After a disastrous adoption which pushed Tootsie too hard and too fast, she has been adopted by her foster caregiver. Tootsie expresses her gratitude by climbing into Joyce's lap and snoozing the time away.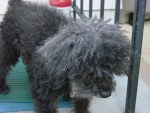 Katie. July 2003. Katie, a 12-year-old miniature Poodle came to the Sanctuary from Cleveland Animal Protective League where she was dumped in the parking lot wearing a little red sweater. She was quickly adopted by a caring woman who wanted a small, older best friend. Katie certainly fit the bill.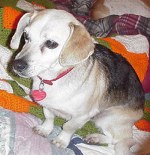 Spike. July 2003. Spike, a little 13-pound dynamo, came to Cleveland animal control as a stray with an estimated age of 11. We admitted him to our program before discovering that his age is actually closer to 5. A Dachshund/Beagle mix, Spike has a very big Beagle bark and uses it freely when he is happy. Spike loves to snuggle and cuddle; he also dances and twirls at dinner time and when he is very happy. His new family in Michigan is just what Spike wanted, and he is happily making their acquaintance.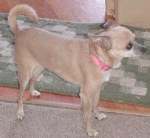 Pippy Le Gayle. July 2003. Pippy Le Gayle, a fawn, 9 y/o spayed female Chihuahua, was turned into an area humane society when her guardian died and the family would not care for her. After a brief stay with the Sanctuary, Pippy found her forever home at an adoption event. Valerie, her new guardian, was looking for a small dog to be her very best friend and go everywhere with her. Pippy volunteered for the job and was hired on the spot.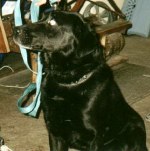 George. June 2003. George, an 8 y/o Black Lab mix, came to the Sanctuary from Knox County, where he escaped the gas chamber that is routinely used to put dogs down. He had an ear infection so bad that it required surgery to correct it, and he also tested positive for heartworm and was successfully treated. George is a mellow, laid back dog who quickly became the favorite of everyone who met him. He was adopted in April, but he was recently brought back to the Sanctuary. George had problems adjusting to the pace of life and the large number of children coming and going in his new home. George, a very sweet and loving dog, has now found the home of his dreams with Timy and Ed and their grandson who enjoys a rousing game of football with George. George's new home was a long time coming, but it was worth every minute of the wait.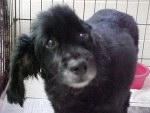 Tunia (short for Petunia). June 2003. Tunia, a sweet 18 pound Cocker Spaniel/Poodle mix, came to a humane society in a neighboring county in desperate shape. She had endured some sort of blow to the head that, together with a long-untreated ear infection, had eaten away some of the bone around her left eye and ear. The humane society treated her infection and started her on the way to healing. Tunia's head is a bit flat on one side, but she is a happy dog who enjoys the company of her new family Kathy and Natalie and her two new cat friends. Tunia is still recovering from her ordeal and recently underwent another surgery to help her heal more quickly. Her new family reports that she is the sweetest dog they have ever met.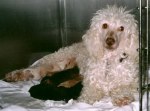 Missy and Pups. June 2003. Missy, a sweet-natured 4 y/o Poodle, came to the Sanctuary from an out-of-state, high-kill shelter. We were told that Missy was an 11 y/o Poodle surrendered by an older person entering assisted living. When Missy arrived, however, we were in for quite a surprise. Just days after arriving, she gave birth to 6 large, healthy, mixed breed pups. Missy had some post delivery complications, but she pulled through with minimal discomfort thanks to the capable hands of Dr. Bob and the other vets at Gateway Animal Clinic and foster parents Mark and Kim. Missy was scheduled to be adopted by an area assisted living facility, but it did not work out as planned. She has been adopted by the mother of her foster caregiver, Kim. All of the puppies have also found wonderful homes.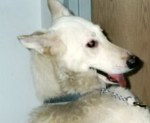 Shadow. April 2003. Shadow, a beautiful 5 y/o White Shepherd, came to Cleveland animal control with her best friend King when her guardian was arrested for a very serious crime. Shadow is a devoted companion, intelligent and eager to please. Shadow appeared on television with King; as a result, she found her forever home with Sally, Robert, and their four cats. Shadow loves to sit near Robert and watch him work hour after hour. She has settled into her new routine nicely and is a devoted companion.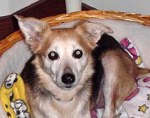 Duchess. April 2003. Duchess, an 8-9 year old Beagle/Shepherd mix, lived with her guardian for her entire life. When he became seriously ill, Duchess and her friends had to live outside in the yard; a kindly neighbor looked after them. When Duchess' guardian passed away, she needed a home desperately. When she came to the Sanctuary, she was a frightened little girl, but she quickly learned to relax in her foster home. Duchess has found a new, loving home with Krissie and her three pet rats! Duchess was spotted recently at a summer street festival in Cleveland; she was having a great time, checking out the art work, listening to the music, and greeting the other dogs in attendance.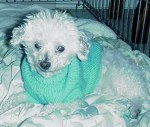 Munchkin. April 2003. Munchkin, a 10-12 year old toy poodle, was turned in to a shelter in NE Ohio as a stray. She was terribly matted but has been groomed and has had a dental. Even though her teeth were very bad and she lost quite a few of them, she is still able to eat with enjoyment; she still manages to crunch treats!! Munchkin is 6 pounds of love who has found her perfect retirement home with Valerie in New York state. Munchkin (who is now called Gracie) shares her home with several other little dog friends.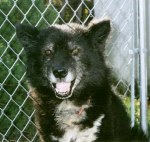 Gus. March 2003. Gus, a handsome 7-year-old Spaniel/Border Collie/Chow mix, was left behind at city animal control when his past guardian claimed his brother but did not want him any longer. He was very thin and had obviously been neglected for quite some time. But he is as happy as he looks, with a smile and a greeting for everyone he meets. Gus had been adopted by a local assisted living facility, but the large number of people proved a little too much for him, so he returned to the Sanctuary to wait for Lisa and her family to adopt him. Gus is living a pampered life with every good thing possible, including lots and lots of love. Gus completed our second therapy dog training class that ended in June.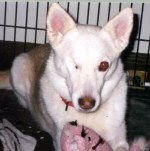 Sabrina. March 2003. Sabrina, a beautiful, gentle 12 y/o American Eskimo/German Shepherd mix, was found tied to a fence with a paper collar around her neck that simply said "Sabrina, 12 years old." Sabrina's right eye had been damaged beyond repair by secondary glaucoma, so it has been recently removed. Sabrina loves to play ball and will play as long as you will throw, so we know she will be happy in her new home with Paul and Carolyn who adopted Jeffie, also an avid ball player, and Mitchell from the Sanctuary 15 months ago. Mitchell went to the bridge from kidney failure in December 2002. Sabrina is settling into her new forever home. Thanks to Paul and Carolyn for continuing to open their hearts and home to senior dogs in need of love and care.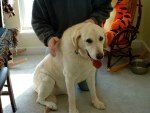 Miracle. February 2003. Miracle, a beautiful 11 y/o Yellow Lab mix, was abandoned at an area vet clinic when they said they had no time for him. Rather than see him put down, a compassionate vet tech took Miracle into her home while she looked for a permanent spot for him. She called the Sanctuary and discovered that an area assisted living facility was looking for a resident dog, and Miracle fit the bill. Miracle went to Sunrise Assisted Living in Rocky River, OH, where he keeps the residents smiling; he does a lot of smiling himself these days because he is never alone and never lonely.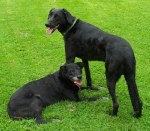 Romeo & Hawkeye. February 2003. Romeo is a tall, beautiful, neutered 8 y/o Lab/Dane mix; he is gentle but needy. Hawkeye, best friend of Romeo, is a smart, healthy, neutered male. He and Romeo have always been together; they clearly love each other's company and worry when they are apart. They love to run and romp and then curl up at your feet. Both dogs are obedient and well-trained and have earned their Canine Good Citizenship certificates. Romeo and Hawkeye have been adopted by their foster caregivers, Frank and Debbie, and will live out their lives with the people they have come to love.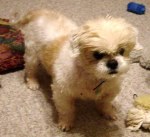 Charlie. January 2003. Charlie, an 8-year-old, neutered male Lhasa/Shih Tzu mix, was picked up as a stray by Cleveland animal control. Charlie went into foster care with the Sanctuary, but he slipped away from his home and was lost in the worst Christmas storm on record in NE Ohio. A Good Samaritan found little Charlie being chased down the street by a group of children and returned him to the Sanctuary. Charlie has now found a wonderful home where he is with his new human companions and his best friend Channing, another little blind Shih Tzu mix also adopted from the Sanctuary.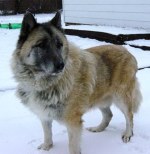 Hans. January 2003. Hans, an 11-year-old German Shepherd mix, is a handsome, gentle dog who loves to cuddle and settle into the warmth of a loving home. Sanctuary volunteers found Hans at the City of Cleveland Kennel. At over 100 pounds, he was not comfortable in his kennel and was thrilled to leave the night before he was to be put down. Neutered and healthy, Hans is truly a gentle giant who has found his place at an area assisted living facility where he spends his days and nights giving and getting love from the residents.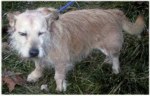 Sadie. January 2003. Sadie, a 10-12 year-old terrier mix, came to the Sanctuary just two weeks before she found her forever home with Terrie and her little dog Charlie and a couple of cat friends. Sadie is blind in one eye and almost completely deaf. But that didn't stop Terrie from falling in love with her funny little face and giving her a warm, loving home. Terrie reports that Sadie has regained some of her hearing from the ear treatments she is receiving.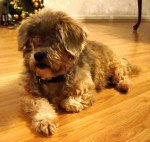 Channing. January 2003. Poor Miss Channing, filthy and covered with mats, was picked up as a stray by Cleveland animal control. One of her eyes had been removed in an apparently poorly performed surgery. Channing has now had her other eye removed as well, but her spirit is strong and she enjoys life, eagerly anticipating each new day in her new home with her two human friends and Charlie her best friend from the Sanctuary (see above). Channing proves again the saying: "Blind dogs see with their hearts."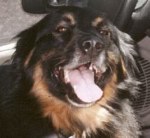 Bernie. January 2003. Bernie, a wonderful 5-6 year-old Collie mix, was rescued from city animal control the night before his time was up. He spent quite some time waiting for a home with loving people who would understand him and love him. But it was well worth the wait. He is one happy fellow now that he has found a great home with Kathy, Wyatt, and Stinky the cat. Bernie will begin obedience training in the spring. Kathy reports that Bernie is the love of her life!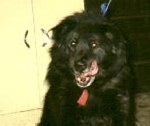 Sammie. January 2003. Sammie, an 8-year-old Black Lab mix was abandoned at a local boarding kennel by a rescuer who moved away and forgot about her rescues. Sammie is exceptionally friendly and enjoys attention from people who visit the kennel. After waiting a long, long time, Sammie has found a warm, loving home with Jerry and Karen and their dogs and cats.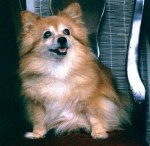 Lulu. January 2003. Lulu, a 10 y/o Pomeranian, came to the Sanctuary from Cleveland animal control. Her skin had been ravaged by untreated allergies and hypothyroidism, which will require daily medication for life. After several months in her foster home, her foster caregiver realized that Lulu had found a permanent home right there with her and her other little rescue dogs. Lulu doesn't know she has been adopted; she is just enjoying every day surrounded by love.
Copyright 2017
No part of this web site, including photographs, may be reproduced without written permission