The Sanctuary for Senior Dogs |
home


Adopted 2007-2008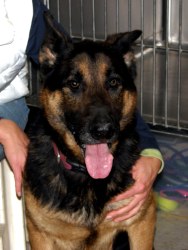 Max, a handsome German Shepherd, was abandoned at animal control when his caregiver died, leaving him alone. He was stressed in the kennel, but luckily he did not have to stay there long. Sally and Robert, who had just lost their best friend Shadow adopted from the Sanctuary several years ago, met him and fell in love. Max was adopted in record time, just days after coming into our program.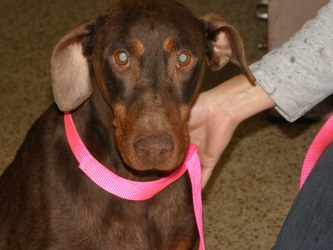 Cookie, a beautiful Doberman girl, found herself abandoned at animal control. She came to the Sanctuary after a hard life that included giving birth to many puppies. Cookie was adopted almost immediately by Sandy and Jay who had adopted Ruby, another beautiful older Doberman, from the Sanctuary. Ruby crossed the rainbow Bridge from cancer just a month before they adopted Cookie.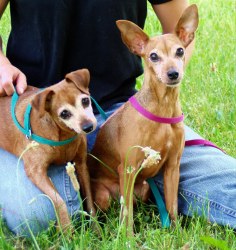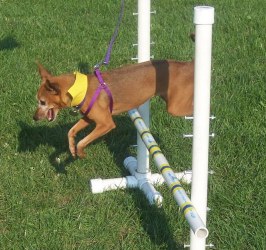 Kit Kat & Kukaroo, 9- and 7-year-old Chihuahua mixes, are a bonded pair that came into the City of Cleveland Kennel together and must be placed together since they are never out of each other's sight. When they were spayed, the clinic first tried to put them in separate kennels, but their protest was so loud and convincing that they were soon reunited in the same kennel for the duration of their stay. Kukaroo loves to bury herself in blankets, completely disappearing underneath them. Kit Kat will sometimes rest her head on the blanket that conceals Kukaroo. Kit Kat loves to follow her humans and be as close to them as she can. They are happy and playful and would love to live in your home. They will entertain and love you for the rest of their lives.
Update
: Kit Kat crossed the rainbow Bridge after a brief illness, leaving Kukaroo to adjust to life without her long term companion. If you would like to consider giving Kukaroo a secure, loving home,
please contact the Sanctuary.
Kukaroo has gone to a wonderful home where she will be the center of the universe for the two people who live there.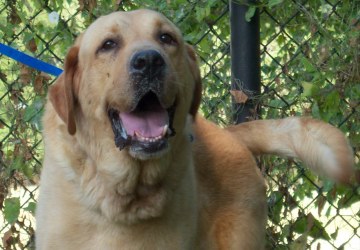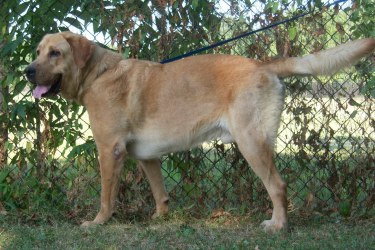 Newman, a 7-8-year-old Yellow lab, is one big loveable lug of a dog. He aims to please in everything he does. Newman will be a devoted lifelong companion to the person or family lucky enough to bring Newman into their home. Newman is currently undergoing heartworm treatment. He will be neutered when his treatment is complete, and then he will be ready for his new adventure. Newman has gone to a wonderful home that he will share with two loving people and two Labs.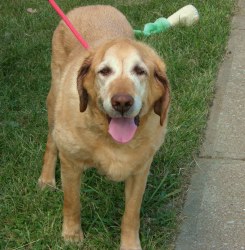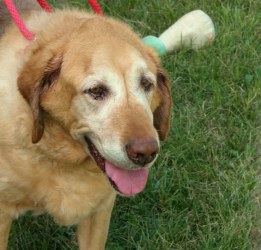 Bubba, a handsome 10+ y/o Lab, found himself in our local animal control. Bubba is brand new to the Sanctuary, but he has been neutered and is healthy with the exception of a bit of arthritis. That doesn't keep him form being playful and loving, however. A true gentleman, good with other dogs and cats, Bubba would love to settle into your home. Bubba was adopted by Mike, the cameraman who filmed a segment on the Sanctuary for a popular local morning show. The bond between them was clear as soon as they met.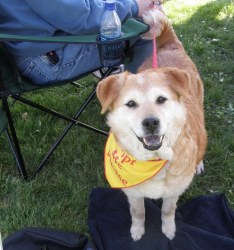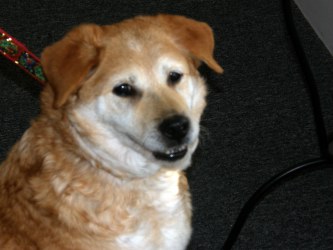 Willow Jean, a beautiful 8-9-year-old Golden Retriever mix, was found stray on the cold, rainy streets of Cleveland. She is friendly and eager to play with the other dogs she meets, but she also loves some couch and cuddle time. Willow is a medium-sized dog, weighing about 35 pounds. She is healthy and happy, just waiting for that special home to call her own. Willow is a little hard of hearing, but that does not slow her down at all. She seems a little too interested in cats, so if her new home has cats, she would need to be carefully monitored in the beginning. If you are willing to show Willow what it is like to have a loving, warm, happy home, she will repay you over and over with her unconditional love and devotion.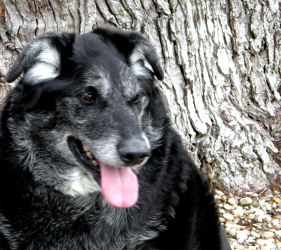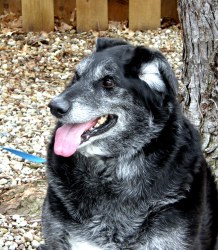 Zeke, an 8-year-old Lab/Collie/Shepherd mix, is a gentle spirit who lost his home when his longtime caregiver had to move to senior housing. At 97 pounds, Zeke was a bit too large for the 20-pound limit in his caregiver's new home. So Zeke found himself alone for the first time in eight years. A beautiful dog, Zeke is healthy and friendly, but quite a bit overweight. He has an odd-looking head because of a past injury that left the large muscle in his head paralyzed. But Zeke does not mind. Aside from making it difficult to grasp a toy or a ball, Zeke's muscle paralysis does not interfere with any other aspects of his life. Zeke has been adopted by a wonderful couple who have made him the valuable family member that he deserves to be.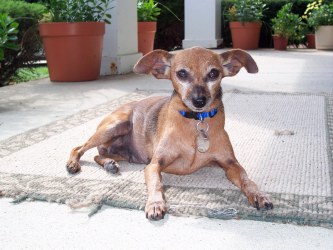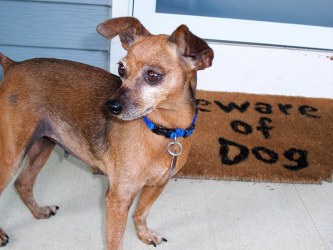 Isabelle, an 8-10-year-old Chihuahua mix, is a loving sweetheart of a dog. She is warm and friendly to people and other dogs; she loves to cuddle and give lots of love. Isabelle will make a wonderful companion and best friend for a single adult or couple.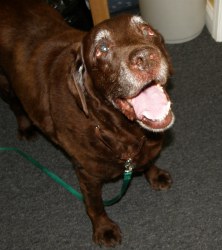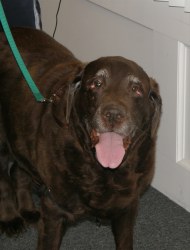 Wally, an 8'ish year-old Chocolate Lab with amazing gray eyebrows, came to the Sanctuary from local animal control where a compassion staff member saw the big old guy who was sick, had horribly infected eyes, and was stressed in a small kennel space. She took him directly to the vet to assess his quality of life. But almost as soon as he was out of the kennel, his incredible spirit and great personality emerged. Just a week later, Wally is full of life. He loves to chase his toys and play. He follows people around and bonds very quickly. His eyes are improving and will be evaluated further in a few days when the infection has cleared enough for a proper diagnosis to be made. He has had a complete blood panel and heartworm test and checked out fine on all counts.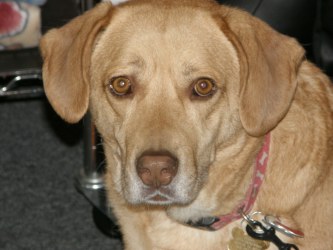 Benny, a 6-7-year-old Beagle/Lab mix with beautiful, soulful eyes, weighs in at about 50 pounds. In his foster home, he is a faithful watchdog, sleeping by the door and alerting his foster family to any intruders. Benny has fully recovered from heartworm with no lasting health problems. He loves walks and walks beautifully on a leash. Friendly to people and other dogs, he would love a home of his own.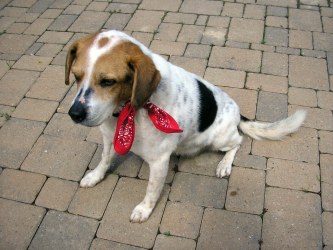 Sweet Sal, a lovely 14-year-old Beagle, is a well-mannered, friendly, pleasant girl. Spayed, healthy, and current on all vaccines, Sweet Sal is an easy dog to love. She fit into her new foster home instantly, enjoying long walks with the Collies she shares her home with, rides in the car, food, and plenty of cuddle time. Housetrained and obedient, Sweet Sal goes outside to relieve herself and comes right back in.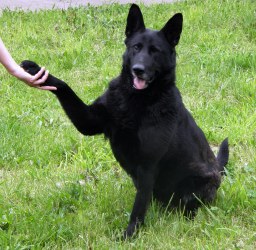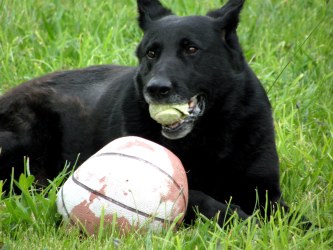 Inga, a beautiful, friendly 8-year-old Black Shepherd, came to the Sanctuary after spending a week in animal control. Inga is a fast learner although she appears to have had no training. She is strong and is learning leash manners, but she will need someone experienced with the breed to continue her training. Affectionate to people, she gets along reasonably well with other large dogs although she will not share her food or her toys. The Sanctuary will not place Inga with small animals or children. She has been spayed and health checked.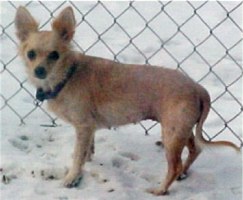 Fleeka, an 8-10-year-old long-haired Chihuahua, came to the Sanctuary from a rural Ohio county when she was picked up frightened and cold as a stray. Although she is terrified of new people and new situations, she warms up quickly as soon as she realizes she is in no danger and has never shown any aggression or tendency to snap. Fleeka has a skin problem that is responding well to treatment. Fleeka, now named Phoebe, was adopted by her foster care givers and has established herself as the queen of the house.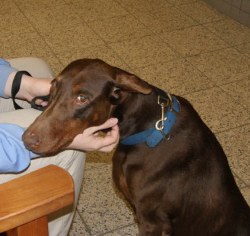 Ruby, an 8-year-old Red Doberman, was left behind in her backyard when her family moved away and did not bother to take her along or even turn her in to a shelter. In the pound, Ruby was quiet and shy. But once she left the pound, she has never looked back. Since coming to the Sanctuary, Ruby has been spayed and had a large number of mammary tumors removed. All tumors were benign, so Ruby is on the road to recovery. A bit needy and very loving to people, Ruby would do best in an adult home with experienced dog handlers who will be patient with her and train her gently and positively.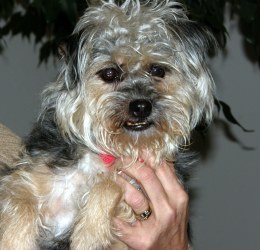 AnnaMae, a 7-year-old Terrier mix, has just arrived from a rural Ohio shelter where she was surrendered when her caregiver entered assisted living. She is healthy and very happy. When she first sees you, she does a very funny little happy dance and breaks into a smile. She is a "young" senior who will make a great companion for the right family.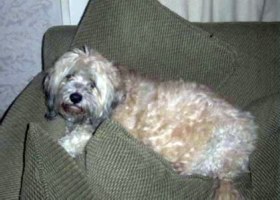 Fannie, a sweet 9-year-old Terrier mix, would love to curl up on your couch and spend the night watching old movies and cuddling. Left alone when her caregiver passed away, Fannie is just waiting for someone to love. She is healthy and happy, but at 45 pounds just a little overweight. A good quality food and gentle exercise will help Fannie get fit. Fannie and Charlie (below) were adopted together by a loving family.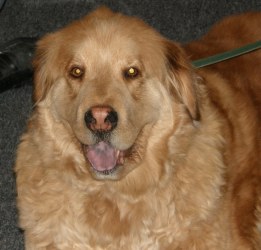 Charlie, a big, loveable lug of a dog, weighs in at almost 100 pounds. What a handsome guy! He is a bit overweight and needs gentle, regular exercise and a good quality food to help him slim down. When his coat is grown out, it is beautiful, soft, and fluffy. Charlie, a Golden Retriever mix, is a friendly, faithful dog. An excellent candidate for our visiting dog program, Charlie's personality will win you over. He is generally healthy with a little arthritis and a benign fatty tumor on his leg. Charlie resembles Burt, our most recent therapy dog, in both looks and temperament. He will give the person lucky enough to adopt him the gift of unconditional love every day. Charlie and Fannie (above) were adopted together by a loving family.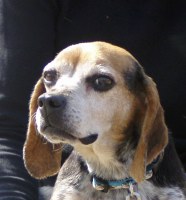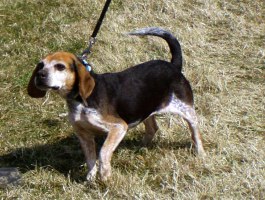 Robin, an adorable 7- to 9-year-old Beagle was picked up as a stray on the streets of Cleveland. When we first saw her, she was emaciated and very frightened. Since no one came looking for her, the Sanctuary accepted her, and Robin has never looked back. After her spay and her health check, she went to a foster home with another Beagle for company. She settled in nicely and developed a real friendship with the other Beagle there. Robin loves her stuffed toys, carrying them around with her wherever she goes. She is crate trained and house trained and enjoys the company of other dogs, but she especially enjoys human company. Long walks and lots of play time make the perfect day for Robin. Sadly, when we first met her, she ran to the trunk of the car as if she expected to be tossed in as many do with their hunting dogs. She has since learned that her place is in the car with her family, not in the trunk. Robin was adopted recently, but she did not adapt to the routine of her new household and came back to the Sanctuary after a couple of months. Robin needs a very special family who will be patient with her issues and make sure that she has the attention she needs. The best family for her would be a retired person or couple who is not away from home for long hours every day. Robin has had kidney stones in the past, so she requires a special diet for life to make sure that they do not return. UPDATE: Robin in is training to become a registered visiting dog!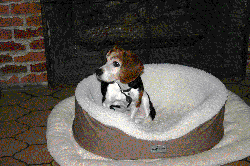 Bailey, 8-10-year-old Beagle. A loving girl. Thin and neglected, now learning to love and play again in her foster home. Stay tuned for a picture and an update, but it looks as if Bailey will be adopted by her foster caregivers who have fallen madly in love with her and her winsome ways. Adopted before we even had a picture, but here she is!!

Sherman, a 10-year-old Black lab. Friendly and loving. Personality plus. Very overweight; needs lots of gentle walks and a well-balanced, wholesome diet. Sherman will arrive on Wednesday, January 23. Look for an update when his medical exam has been completed. Sherman needs a foster home so he will not have to stay in boarding.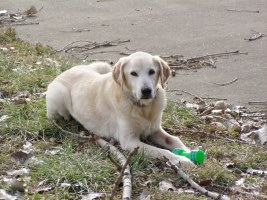 Flip, an 8- 9-year-old, neutered Yellow Lab mix, is a beautiful, gentle soul in need of a warm, loving home. Found abandoned on the streets of Cleveland, Flip made himself right at home in the shelter. He is an attentive, easy-going dog who takes great pleasure in pleasing the people around him. He loves to be stroked, but he is not pushy about it. He soaks up love and affection like a sponge. It is clear that Flip was once a family dog who for reasons unimaginable lost his home and his family. He has very nice leash manners and keeps his kennel neat and clean. Apparently at ease with cats and other dogs, Flip is a gem of a dog.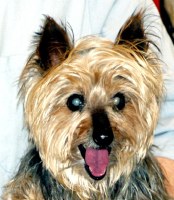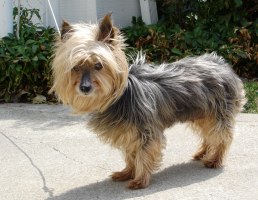 Minnie, a 12-year-old Yorkie, is a true sweetheart of a dog. Minnie has been through quite a bit in her life, and she is now looking for a quiet, loving, caring home to enjoy her retirement years. When Minnie came to the Sanctuary, she was completely blind, but she is independent and gets around very well, building a mental map of her surroundings quickly. In addition, Minnie has had surgery for mammary cancer but her prognosis is very good. She is loving and affectionate with people, and she gets along with small, friendly animals. Minnie would do well in a loving, adult home where she can feel secure.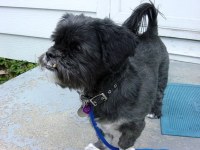 Lola, a 9-year-old Lhasa Apso, ended up in an area shelter looking more like a piece of fiberglass than a dog. She was so neglected and so matted that it was difficult to tell her head from her tail. The Sanctuary agreed to take Lola because we believed that she deserved a chance. We had no idea of her age or her gender. After being completely shaved and treated medically, beautiful Lola emerged. She still has deep issues from her years of neglect, but she is responding slowly to training and love. Because of Lola's lingering tendency to bite when she is frightened or upset, she will remain with the Sanctuary in a safe, loving foster home for life. Lola was adopted by her long time foster family.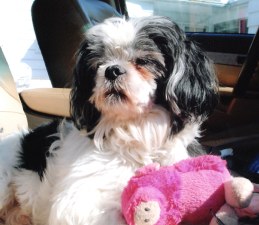 Coco, a 9-year-old Shih Tzu, came to the Sanctuary from a neighboring county when the shelter could not place him and was planning to put him down. He is very intelligent and opinionated with a strong alpha personality. Coco needs to be the only animal in an adult home with experienced dog handlers. Coco would benefit from gentle training using positive methods. He needs to have his confidence built up and to understand the hierarchy of the household. Coco has personality plus; he runs to the door to greet newcomers with a stuffed toy in his mouth.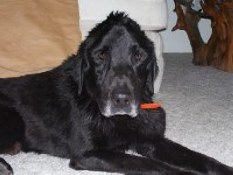 Buddy, a 12-year-old Black Lab, was picked up as a stray in a rural Ohio county and taken to a frightening shelter where he narrowly escaped the gas chamber and was routinely attacked by the other dogs in his kennel. When he came to the Sanctuary, he was painfully thin, but his blood work was normal, and he is gaining weight and strength every day. Buddy is a laid back, sweet-natured dog who is filled with love for the family lucky enough to give him a warm retirement home for the rest of his life. He has some arthritis in his hips and a spindle cell tumor on his shoulder that was removed when he was neutered. He is now eager for a loving home of his own.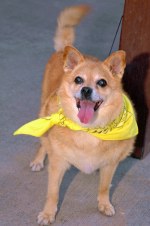 Ethel, a 10-year-old Pomeranian/Chihuahua mix, was abandoned by her family of over a decade simply because she is now older. She is overweight and would benefit from several short, gentle walks each day. She loves the company of people and other dogs and enjoys visiting the dog park with her friend Charlie, a large fellow who shares her living space at the kennel. Ethel's health check revealed no major problems beyond her weight. She is a warm, affectionate, and loving dog who deserves a happy home for her retirement years. Let's show her that there are people out there who value old dogs and do not abandon them simply because they are no longer young.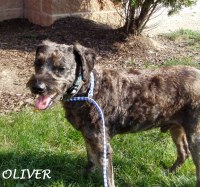 Oliver, a 7-8-year-old Schnauzer mix, is a laid back, friendly fellow who was abandoned on the streets of Cleveland. When no one claimed this handsome dog, he came to the Sanctuary. Currently in boarding awaiting a foster or permanent home of his own, Oliver is friendly to everyone he meets. His health is good, and he will have a fatty tumor removed from his chest as soon as he recovers from a bout of kennel cough. Oliver loves to go for walks and ride in the car. He will make a splendid companion for the family lucky enough to adopt him.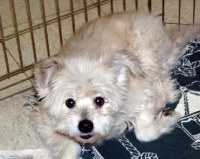 Gladys is a sweet, but timid, Westie mix, who was abandoned on the streets of Cleveland to fend for herself. She was terrified her first few days in the kennel, but now she has begun to eat and relax a little. We believe that she is about 10-12 years old, but that will need to be confirmed by a vet. More details will be available about her in the days that follow pending the results of her vet visit. She is a beautiful little girl who deserves so much more than this in her golden years.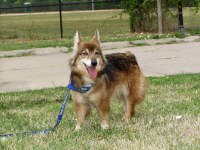 Sue
, a 10-year-old Sheltie mix, was abandoned by her family when they moved away and left Sue and several other dogs and cats. Sue's friends jumped out an open window and ran away after a time, but Sue waited and waited. Finally someone reported the abandoned animals, and the City of Cleveland Kennel officers came to get Sue and take her to the kennel. When Sanctuary volunteers saw her, they thought she was too sweet and lovable to resist. Clearly they were right since Sue was adopted by the mother of a Sanctuary volunteer before she could even recover from her kennel cough and appear on the web site. Sadly, Suzi, as her new family called her, passed away of congestive heart failure a very short time after being adopted. She is missed by her new family and many friends.
Joe, a 7-year-old Golden Retriever/German Shepherd, is a big, handsome, friendly fellow who was picked up as a stray by the City of Cleveland Kennel officers. Once apparently a cherished family member, Joe came to us neutered and healthy, but obviously stressed at being confined. He loves to play with tennis balls and is learning his basic commands. He is even tempered and gets along well with everyone he meets, greeting them with a slowly waving tail. With training and love, he would be an excellent candidate for the therapy dog program. Joe was adopted by his foster family who just could not part with him.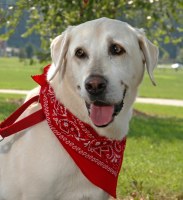 Skye, a 8- to 10-year-old Yellow Lab, came to the Sanctuary from Stark County where she had been picked up as a stray. Her eyes show the sadness and confusion she feels at ending up at the pound. She appears to be well-cared for and healthy, and she is very loving toward people who show her kindness. She got along well with Quentin (below) and does not show aggression to other animals. She tends to pull on the leash, but she would respond well to gentle, positive training methods. Skye would love an active home with lots of walks. She has a benign growth on her right front leg and another on her eyelid, which are scheduled to be removed this week. The vet who examined her reported that her tail never stopped wagging and her great Lab personality made everyone at the clinic smile.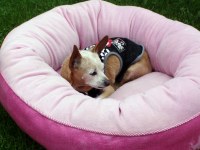 Humphrey Bogart,
a tiny 6-pound, 12- to 13-year-old Chihuahua, was picked up as a little stray on the streets of Cleveland. Humphrey has been neutered and passed his heath screen. He has a touch of arthritis that does not keep him down He enjoys playing with the other dogs in his foster home, but he would love an adult home of his own, perhaps with one or two friendly small dogs. If you make room for Humphrey Bogart, a big personality in a tiny dog, you will have a friend for life.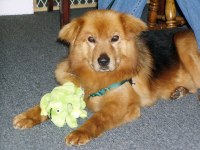 Quentin
, an 8- to 10-year-old Red Chow mix, came to the Sanctuary from Stark County where he had been picked up as a stray. He is a medium-sized (45 pounds), gentle spirited boy who loves to ride in the car and loves to be close to his people. He and Skye (above) shared the ride from Stark County to Cleveland and got along well with each other. Quentin is scheduled to be neutered as soon as he has gained a little bit of weight. He is a gentle soul who is reported to be very sweet with no aggression.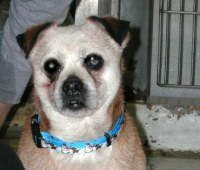 Stretch, a 10-year-old Pug/Chihuahua mix, was picked up as a stray on the cold streets of Cleveland on a day when the wind chill was about 20 below zero. He is a survivor and quickly settled into the City of Cleveland Kennel, enjoying regular meals and the attention of the clinic staff. Stretch has been recently neutered and is ready for a warm, loving home of his own. He likes cats and other dogs as well as most people. he is a bit shy at first, but once he knows you, you are his best friend. Stretch is healthy with the exception of a thyroid condition that is treated with two inexpensive pills each day.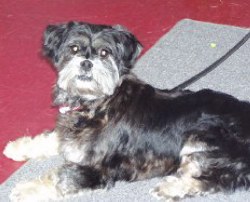 Duchess, a 8-year-old Shih Tzu mix, is full of life and energy. She is healthy and happy and needs a home with lots of activity to keep her stimulated. Duchess can be a little snippy with other dogs and would enjoy being the princess of the house without competition from others.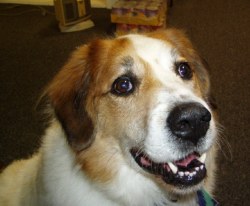 Otis, a 7-year-old Collie/Saint Bernard mix, is a big, lovable lug of a dog, weighing in at 85 pounds. He knows his basic commands, likes kids and cats, and accepts other dogs that do not challenge him. Otis is in foster care and spends his days at Inn the Dog House Doggie Day Care where his foster caregiver works. He gets along well with the other dogs in day care, and he follows his care giver around as she works. Otis will be enrolled in a basic training course at North Coast Dogs in January to prepare him for adoption and possible therapy work.
Copyright 2017
No part of this web site, including photographs, may be reproduced without written permission