The Sanctuary for Senior Dogs |
home


Adopted 2002

The dogs featured on this page have been adopted from The Sanctuary for Senior Dogs in 2002. The Sanctuary assists in the placement or rescue of many more dogs that are not featured here.
Smokey & Jennifer. December 2002.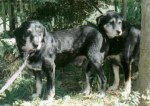 Smokey and Jennifer, very shy but very sweet 11-year-old Black lab mixes, went to their wonderful new home recently. They have received minimal care until now and have spent their entire lives outside in a wood and wire pen. They now have a comfortable retirement home with Bert who is willing to go slowly with them and introduce them to the comforts and joys of a loving home. These two special dogs have been looking for their very own home for over a year! Thank you, Bert. Smokey and Jennifer will repay you with a lifetime of devotion.
Sir Charles. November 2002.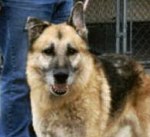 Sir Charles is a handsome, 8-year-old German Shepherd who was picked up as a stray by Cleveland animal control. He is a friendly, well-mannered fellow with a big heart. Following his appearance on a local television news program, he was adopted in record time. Charles (whose name is now Griffin) spends his days with Rick and Marty and his new dog pal Spirit, enjoying many daily walks and lots of treats and love.
Hank. October 2002.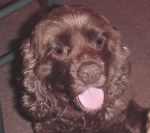 Hank, a handsome 7-year-old Chocolate Cocker Spaniel, was down to his last days at the City of Cleveland Kennels when a Sanctuary volunteer spotted his sweet face. Hank has had a dental and been neutered. In addition, he has had surgery to correct a knee problem. He has now recovered and is enjoying a life of comfort and ease with his new family.
Cassie. October 2002.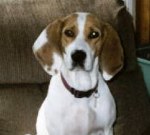 Cassie, a 4-year-old Walker Coonhound, was turned into an animal control facility in Michigan because it was too expensive to feed her. She had just given birth to a litter of puppies; she was tremendously undernourished and heartworm positive. Cassie was a frightened little girl who had not been treated nicely, but she is sweet and loving and is gaining confidence in her new home each day. She shares her home with Luella, her loving human companion, and her new best dog friend Danny.
Ernie. October 2002.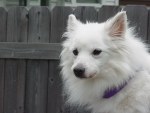 Ernie, a 10 y/o miniature American Eskimo, was picked up by animal control and taken to a shelter in a neighboring county. Apparently used and grossly neglected by an area breeder, Ernie lost all of his teeth, leaving behind an uneven gum line filled with holes. Ernie, however, manages to eat a diet of soft food with real enjoyment, and he is beginning to fill out. Ernie's gait is a bit unusual because he does not bend his knees; rather he hops like a frog. But he can run and jump in spite of his bad knees. Ernie is a real love, howling gently when he is lonely and dancing happily when someone comes to pet him and ease his loneliness. He has developed kidney disease, which is controlled by fluid therapy. He shares his new home with Sheltie Holly, American Eskimo Juneau, and human Sondra.
Annabel. September 2002.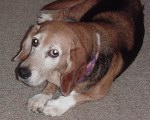 Annabel is a 10-year-old, tricolor, spayed Basset mix. She looks just like a Basset except for her short ears! She has an excellent temperament and a wonderful hound voice. When her companion had to enter a nursing home, Annabel ended up in a shelter in northern Kentucky before she came to the Sanctuary. Annabel is obedient and quiet, and she loves to cuddle. She is settling into her new home with Pam and feeling like one very lucky dog.
Gracie. September 2002.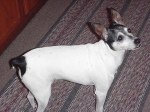 Gracie, a 7-year-old Rat Terrier, was nearing the end of her time at an area shelter when a Sanctuary volunteer agreed to take her in. She immediately settled into her new foster home, but she didn't stay long. Gracie is so cute that she was adopted in record time. She is one happy girl in her new home.
Sally. August 2002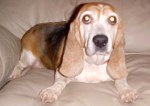 Sally, a 7-year-old Beagle, is a great little lady. Sally has had a hard life, and she carries the scars of past abuse on her back and her mouth. She is still terrified of anything that moves quickly, but she loves to eat and get treats. At first, she didn't even know what a treat was. As she has learned to trust, she has also learned to ask for attention and affection. Sally has now taken her place in a wonderful home with Beagle Boy (see below, March 2002), and she continues to learn to love and trust.
Sophie. August 2002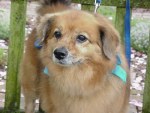 Sophie, a beautiful 30-pound Pomeranian mix, was picked up as a stray by Cleveland animal control and scheduled to be killed the next day when Sanctuary volunteers pulled her. She is about 7 years old and an all-around well-mannered dog. Her new family loves her dearly and looks forward to lots of good times with Miss Sophie. Sophie is a member of the Sanctuary's first therapy dog class and will earn her certification in November.
ShuShu. July 2002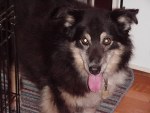 ShuShu, an Australian Shepherd mix, is a sweet and silly senior who was dumped at a high-kill shelter in central Ohio by her companion of 14 years because ShuShu got on her nerves. ShuShu was confused, sad, and disoriented for the first several days, but she adjusted quickly to her new life. When she first wakes up in the morning, she does a happy dance, twirling in circles. ShuShu has settled into her new home with three cat companions and a human who adores her.
Bambi, July 2002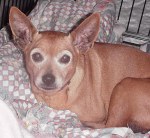 Bambi, a 13 year old Miniature Pinscher, was relinquished to an area humane society when her owner entered a nursing home. Bambi is a very affectionate dog, and she loves to curl up in a pile of blankets and take a long nap. She recently had several mammary tumors removed. The pathologist reported low grade carcinoma; the likelihood of metastasis is slight. So Bambi has some time left to her to enjoy the life she deserves. Her foster family became so fond of Bambi that she has become a permanent addition to their home.
Cole (Chloe). July 2002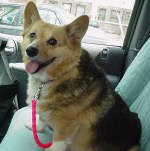 Chloe, a 7-year-old Pembroke Welsh Corgi, was picked up by the City of Cleveland as a stray and spent several weeks in the city kennel. She was treated for cherry eye and quickly found her new family with Kathy and John and their two children and two dogs. They report that Miss Chloe is queen of their house and an absolutely delightful dog.
Justin. June 2002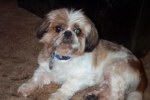 Justin, a 7 year-old Shih-Tzu, was picked up by the City of Cleveland as a stray and spent time in the city kennel until he was discovered by kennel staff and sent to the Sanctuary. Partially blind from years of untreated dry eye, Justin was the master of his own fate, deciding who he liked and who he did not. He went through a couple of placements before he settled happily in with Dolores who reports that he is a charmer and has become her best friend.
Tessa. June 2002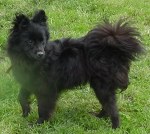 Tessa was picked up as a stray in a neighboring county and identified as a senior with little chance for adoption. When Sanctuary staff went to pick her up, they were surprised to discover a much younger dog, approximately 5-6 years old. But since her time was up, they brought her back to Cleveland where she was quickly adopted at the annual event, Meet Your Best Friend at the Zoo. Tessa's new name is Ebony, and she has a young puppy as her new best friend. Her new family reports that Ebony plays so hard that the puppy cannot keep up.
Belle. June 2002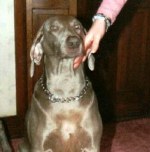 Belle, a 5-year-old, friendly, but somewhat anxious, Weimaraner, came to the Sanctuary because her guardian was diagnosed with a grave illness and had to be hospitalized. Belle is clearly an alpha female, so she needed just the right home with a male dog or none at all. After a long search, she found the right home with her new best dog friend Chasen, a male Weimaraner who took Bell under his wing and taught her how to be a happy, secure companion.
Pax. May 2002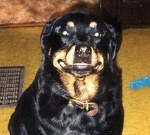 Pax, a 5-year-old, exceptionally friendly, lovable, big lug of a boy, came to the Sanctuary because his guardian was diagnosed with a grave illness and had to be hospitalized. Pax adjusted to life on his own in a foster home with Jen and her family. Pax is a bit overweight, but he found his walking partners in Denis and Jenny and their Rottweiller mix Annie. Pax is reportedly doing well in his new home, loving the many hugs he gets each day. Pax is a member of the Sanctuary's first therapy dog class and will earn his certification in November.
Bo. April 2002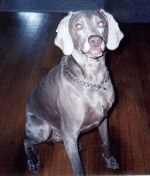 Bo, a 7-year-old, sweet, loving Weimaraner, came to the Sanctuary with Pax and Belle, because his guardian was diagnosed with a grave illness and had to be hospitalized. Bo was immediately adopted by a family in western Pennsylvania. His new best friend, a female Weimaraner named Shadow, fell in love with Bo almost immediately. His family reports that Bo is "the best dog ever." We hope Shadow doesn't read their outgoing mail!
Goldilocks. April 2002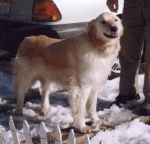 An older gentleman found Goldilocks when he opened his front door to look out and she simply walked in. Just days from complete starvation, Goldi, a 3-year-old Golden Retriever mix, responded quickly to good food and loving care. The older gentleman agreed to keep Goldi while we helped him look for a home for her. Goldi, whose name is now Abbie, found the perfect home with Jeff and Cindy. She is the center of their life and gets long walks in the park as often as she wants.
Edna. March 2002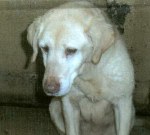 Edna, a sad-eyed 10-year-old Yellow Lab mix, found her way to the City of Cleveland Kennel as a stray. Edna came to the Sanctuary where she suffered from a very stubborn strain of kennel cough that debilitated her. Sue fell in love with Edna and made arrangements to adopt her, but Edna's health continued to fail. Sue agreed to provide permanent foster care to Edna. Sadly, however, Edna went to the Bridge with cancer on March 7, 2002, just two days after moving into Sue's loving home.
Mabel. March 2002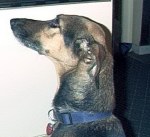 Mabel, a 12-year-old Whippet/Shepherd mix, was abandoned by the neighbor of a caring woman in Elyria, OH. Susan continued to care for Mabel while the Sanctuary searched for a home for her. After several months, Denise saw Mabel on the Internet and fell in love. Mabel was adopted and is now Denise's best friend. Denise reports that Mabel is a sweetheart who enjoys her daily walks and her loving, new home.
Beagle Boy. March 2002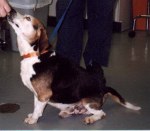 Beagle Boy was a sad, lonely 12-year-old dog at the City of Cleveland Kennel when Shandra called us about him. In the waiting room at Gateway Animal Clinic, a caring older couple first saw BB and fell in love. They thought that he looked like a little lost soul with all the fight gone from him. They couldn't get BB out of their minds and returned to the clinic to visit BB who was recovering from his neuter and a tumor removal. BB never made it to the Sanctuary, but he did make it to a loving home in record time. Sanctuary volunteers see BB regularly because he comes along with Trixie, his new friend, when she comes to the clinic several times a week for treatment for her kidney disease.
Fizzy. January 2002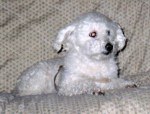 Fizzy, a sweet-natured, 14-year-old Poodle boy, was given up by a family that no longer wanted him. Lucky for Fizzy, a new family and a special new dog best friend was waiting for him. References had been checked and approved before Fizzy even arrived, and he went to his new home just a half hour after arriving at the Sanctuary.
Buddy. January 2002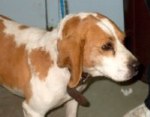 Buddy, a 10-year-old Beagle, landed in a shelter in Indiana with little chance of adoption. The shelter workers agreed to keep him in a foster home until the Sanctuary could find a permanent home for him. It wasn't long until a kind gentleman saw Buddy and began making arrangements to bring Buddy to Ohio. Buddy has settled into his new home and is a well-behaved, happy friend to William, his new dad.
Marla. January 2002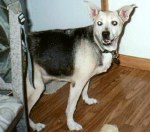 Marla and Mitchell were a sad sight at the City of Cleveland Kennel when Shandra Koler called the Sanctuary about them. Two old dogs, huddled in their separate cages, frightened and ill, Marla and Mitchell stood no chance of adoption.
Marla is a spry old girl despite neurological problems that cause back leg weakness. She also had severe allergies that had caused hair loss over the back half of her body. After thorough veterinary care at Gateway Animal Clinic, Marla and Mitchell went to their foster home with Jaime. Marla found her forever home with Pops, a senior person who loves Marla and cooks chicken for her each morning.
Star. January 2002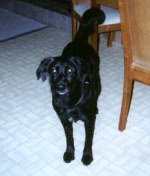 Star, a 7-year-old Black Lab mix, had no place to call home when her family moved and left her behind. But Amy quickly spotted Star on the web site and though she would make a nice companion for her mother Marie. It wasn't long before Star had made herself at home with her new best friend.
Cory. January 2002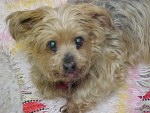 Cory, a 10 year-old Yorkie mix with failing vision, came to the Sanctuary from the Wayne County Humane Society. After a complete health check and a dental to remove most of his teeth, Cory was ready for his new home. Many people applied for Cory, but he chose his new home carefully. He now lives with his four human pals, a couple of cat friends, and his best buddy ever, Frankie, a young Westie who loves to run and play with Cory.
Copyright 2017
No part of this web site, including photographs, may be reproduced without written permission