The Sanctuary for Senior Dogs |
home


Adopted 2001

The dogs featured on this page have been adopted from The Sanctuary for Senior Dogs in 2001, our first full year of operation. The Sanctuary assists in the placement or rescue of many more dogs that are not featured here.
Yoda. December 2001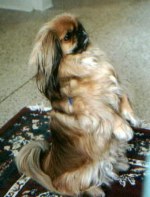 Yoda's family adopted him at six years old from a rescue group in Georgia two years before he came to the Sanctuary. But after the birth of their children, Yoda's family didn't have time for him, and the children were very rough with him. When Yoda came to the Sanctuary, he was infested with fleas and very hungry for affection. He went into a foster home with another Pekingese and a Japanese Chin mix. Yoda fit in so well and was so good at winning the heart of Judy, his foster mother, that he has moved in for good.
Mitchell. December 2001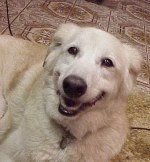 Marla and Mitchell were a sad sight at the City of Cleveland Kennel when Shandra Koler called the Sanctuary about them. Two old dogs, huddled in their separate cages, frightened and ill, Marla and Mitchell stood no chance of adoption.
Mitchell was diagnosed as hypothyroid shortly after arriving at the Sanctuary. He had fatty tissue and severe hair loss. But with veterinary care and medication, Mitchell's improvement was striking. Mitchell (along with Jeffie, below) was adopted by Paul and Carolyn who wanted an old, mellow dog, and Mitchell fit the bill. Mitchell is happy in his new home, and his health continues to improve.
Mitchell crossed the Rainbow Bridge in November 2002, spending the best year of his life with Carolyn and Paul.
Jeffie. December 2001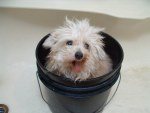 Jeffie, a small 10 year-old Poodle mix, came to the Sanctuary from the City of Cleveland Kennel. His teeth had been so neglected that infection had eaten through his lower jawbone. Dr. Bob of Gateway Animal Clinic cleaned and pulled many of Jeffie's teeth and repaired his jawbone. Jeffie was adopted by Paul and Carolyn who fell in love with Jeffie, too, when they came to adopt Mitchell. Jeffie loves to run up and down the driveway of his new home, and he is enjoying his second chance at the life he deserves.
Sugar. December 2001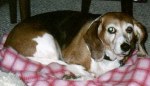 Sugar is a 7-8 year-old Beagle who took up residence in the City of Cleveland Kennel where she stayed for three long weeks. She had been placed on the euthanasia list when Shandra Koler called the Sanctuary to see if we had room for her. Even though we were full at the time, Sugar took up residence in the director's kitchen. In no time at all Sugar had won over the other old dogs and moved right into the softest dog bed in the living room. Sugar was adopted by a caring woman in N. Kentucky who reports that Sugar is learning to trust and enjoy her new life. When Sugar came to the Sanctuary, she had a large mammary tumor removed, and her chest x-rays showed possible lung cancer. But a recent examination by a specialist revealed that the spots on her lungs are shrinking, a very good sign for Sugar.
Jack. November 2001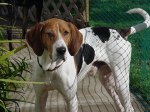 Jack, a very special 6 year-old Walker Coonhound, was found living in a dangerous industrial area of Cleveland by a friend of a Sanctuary board member. Tired of running, Jack lay down on the rapid transit tracks; the conductor had to stop the train to run Jack off. His left eye had to be removed because of on old stab wound, but he compensates for his loss of sight quite well as long as no one approaches him suddenly from his blind side. Very friendly with other dogs, women, and most men, Jack is absolutely terrified of sticks, knives, and similar objects. Jack successfully underwent heartworm treatment before he found his forever home with John and Debbie in Denver, CO.
Lilly. November 2001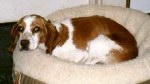 A small Beagle girl, Lilly was huddled in the back of her cage at the City of Cleveland Kennel when Sanctuary staff spotted her. She was a very shy, very frightened girl. Lilly came to the Sanctuary as soon as her required hold time at the Kennel was up. But she was only with us a short time before she found a cozy forever home with Gayle and Peter and their two Beagles. Now Lilly, who has been dubbed Phoebe, can be found curled up with her head on a Beagle pal, resting comfortably and learning how to enjoy life again.
Poutie. October 2001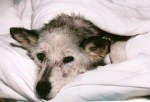 A sweet, frail 16 year-old Terrier mix, Poutie lived with a large number of dogs in wood and wire pens in Geauga County. A woman in Pennsylvania saw Poutie on our web site and wanted to make sure that Poutie knew what it felt like to be loved for whatever time she had left. Plagued by a multitude of health problems, Poutie healed nicely and learned to enjoy love and life in her new home. Poutie became 95 % housebroken in a matter of days; her skin healed, and her step has a bounce to it. Poutie became the victim of divorce and was returned to the Sanctuary in January 2002, where she was happily reunited with her sister Jasper. In failing health and diagnosed with a brain tumor, Poutie joined Jasper at the bridge on April 19, 2002.
Rachel. October 2001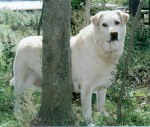 Rachel lived all 11 years of her life in the same outdoor wire pen as Poutie, Goldie, Rachel, and Jasper. A result of careless breeding among unaltered dogs, Rachel was the only puppy in the litter that did not find a home of her own. A sweet-natured Yellow Lab mix, she was waiting for her forever home when Elaine from Columbus, OH, saw her picture on the web page. Even though Elaine worried about Rachel's age, she couldn't get her sad eyes out of her mind. After a great deal of soul searching, Elaine drove to Geauga County to meet Rachel. The rest is history. Elaine reports that Rachel loves to go for walks and exchange hugs with her new family.
Baron. October 2001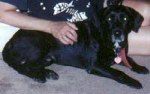 Baron is a 7-year-old Black Lab mix. At 40 pounds, he looks like a miniature Lab. His owner had to give him up because she lost her home and had no place to go that would accept Baron. After a short time in a foster home with Kathi Lester, Baron found a wonderful home with a retired couple who play ball with him and walk him every day. Baron is now living the high life as a cherished family member and enjoying every minute.
JJ. September 2001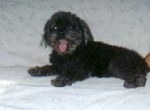 A frightened, 12-year-old, little black Poodle mix, JJ was huddled in his cage at the City of Cleveland Kennel when he caught the eye of Shandra Koler. JJ's teeth were so infected that his health was suffering. In just a few days, most of JJ's teeth had been removed, and he was feeling better every day. When JJ walks, his ears flap, making him look like a little bird about to fly away. JJ went to Greyhound Fun Days in September where he met his new mom, Elaine. He and Elaine have been inseparable ever since. Elaine is thinking about training JJ as a therapy dog since one of his favorite activities is to sit in the nearest available lap, giving and receiving love, kisses, and attention.
Walter. August 2001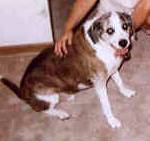 Walter, a 16-year-old Boxer/Hound mix, was in a desperate situation. The Sanctuary had been looking for a home for Walter for over two months. His family home had been sold, and Walter was going to have to leave. His euthanasia date was set for Saturday morning because the new family would take possession of the house on Monday. On Friday night, a wonderful woman who had been looking for a dog for her neighbor called the Sanctuary to say that she had decided to take Walter herself. Walter is now happy in his new home. He has dog and cat friends whom he is devoted to and a loving family to share the rest of his days.
Blossom. July 2001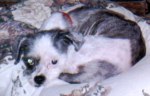 Beneath the worst mats and filth I've ever seen, Blossom, a Shih Tzu mix, emerged after three hours of clipping and shaving by Tammy, a talented and patient groomer. Picked up as a stray by Cleveland animal control in May, Blossom looked so bad that we were surprised to find a healthy, loving, sweet-natured dog just waiting to come out. She has truly "blossomed" into a beautiful dog now known as Cindy by her new family. She is clearly queen of the house; she has her own pillow on the bed and has staked her claim on the couch as well.
Elmo. July 2001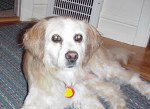 Elmo, a 12 year-old Spaniel mix, was surrendered to a family friend who decided after six months that Elmo didn't fit his lifestyle. The friend brought Elmo to the Sanctuary in May, and he went into foster care with Tammy, who used her grooming skills to help Elmo overcome a very bad haircut. Elmo is good with children and adults. He also loves other dogs and especially cats, but Tammy's little dog BooBoo did not like Elmo at all, so he moved into foster care with Elaine until Elmo was adopted in July 2001 by a wonderful family who love him dearly.
Smokey. May 2001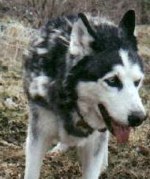 At 14 years old, Smokey was deaf and had more than a touch of arthritis in his hips. But that didn't keep Mona and her daughter from seeing his charm and personality in a picture of him on the Siberian Husky web page. Smokey was an owner surrender; his family had moved and could not keep him any longer. Smokey is a gentle dog who is now devoted to Mona's daughter. He has settled into his new home in Columbus, OH, where he is the center of attention in his new home.
Clifford. May 2001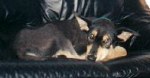 Clifford holds the Sanctuary record for quick adoptions. Shandra Koler discovered him at the City of Cleveland Kennel where his winsome ways charmed absolutely everyone who met him. He came to the Sanctuary, and the very next day we took him to Gateway Animal Clinic for a geriatric blood panel and a heartworm test. It was there that he met his new family, Melissa and Adam who were at the clinic with two of their cats. One look at Clifford and they were in love. Clifford never made it to Meet Your Best Friend at the Zoo later in the week because he found his new home with Melissa, Adam, and their three cats by being in the right place at the right time.
Meghan. April 2001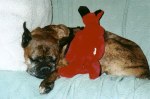 Rescued from the abuse and neglect of a local crack house in June 1999, Meghan, a brindle Boxer, was an escape artist when it came to crates. Each time I left the house, I carefully crated Meghan, but she always greeted me at the door with Angel when I returned. She and Angel became known as the "Hackle Sisters" because they raised their hackles at all neighborhood dogs. Meghan made herself at home at the Sanctuary for almost two years until she became cat aggressive and was adopted to a cat-free home in southern Ohio.
Henry. February 2001. The Sanctuary's 1st Adoption!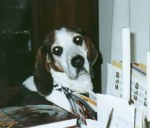 Henry, a Beagle/Coonhound mix, was a frequent visitor at an Ashtabula County construction site in the fall of 2000. The foreman, wanting to get rid of him, drove him 50 miles east and dropped him off. But the next day, Henry was back. The foreman then threatened to shoot Henry, who actually belonged to a family next door to the site. A kindhearted construction worker took Henry home with the blessing of Henry's family, but he was beaten up badly by his rescuer's resident dogs. After spending four months at the Sanctuary, Henry was adopted by a wonderful woman in need of a faithful companion in February 2001. Sadly, Henry went to the Bridge on September 20, 2002, after a brief but serious illness. God Speed, Henry.
Copyright 2017
No part of this web site, including photographs, may be reproduced without written permission