The Sanctuary for Senior Dogs |
home


In Memory, 2007-2008


Light A Candle
in memory of your best old friend. Share your memories with us. Your candle remains lit for 48 hours. Visit this site as often as you wish.
Old Dogs, Great Friends!
"Accept this pain with grace, for . . .
you have saved a life well worth living."
--Helen Friedman, Paws to Think, Spring 2004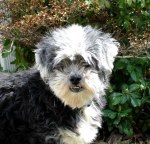 Beatrice
, a 15-year-old Lhasa Apso, came to the Sanctuary in 2004 when another sanctuary in central Ohio closed. Bea was taken by a central Ohio rescuer who decided to put her down because she was old, blind, and had a bad case of hookworms. The Sanctuary stepped in a provided for Bea's medical needs. She has had both eyes removed and gets around just fine. She has a permanent spot in her foster home where she enjoys the constant companionship of another little blind dog named Channing (see below), also a permanent resident. They love to curl up together and sleep the hours away in the comfort of a cozy dog bed.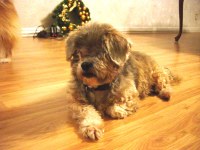 Channing
, a sweet 16-year-old Lhasa Apso mix, came to the Sanctuary with such severely infected eyes that they both had to be removed. She was adopted quickly because she is so adorable, and she gets around very well, but she was returned from her adoptive home when she became incontinent. She has a permanent spot in her foster home where she enjoys the company of several friendly smaller dogs. Channing crossed the Bridge after a short illness to join her best friend Beatrice.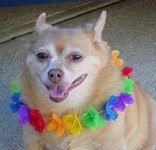 Sugar Bear
, a smiling 14 y/o Chihuahua/Pomeranian mix, came to the Sanctuary from a neighboring county as an obese, but happy, little girl. She has been diagnosed as hypothyroid, a common condition in older dogs and easily treatable with an inexpensive daily medication. Sugar has tried to diet, but her efforts have so far been unsuccessful; she is on a weight watchers program and likes to take frequent, short daily walks. In a recent accident, she damaged one of her eyes, and it had to be removed. She compensates remarkably well and has suffered no lasting ill effects, except for her permanent wink that adds to her charm. Sugar Bear was training to serve as Sanctuary therapy dog until her health deteriorated. She makes her home with Catherine and several small dog friends in our permanent resident program.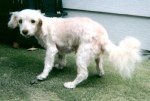 Vanderbilt
, a tiny 15-year-old Maltese mix, is a gentle sweetheart of a dog. He likes nothing better than to snuggle up for a long winter's nap, but he will also share in slow neighborhood walks. Vanderbilt suffers from dry-eye and Canine Cognitive Dysfunction. He will stay in his foster home with the Sanctuary for life.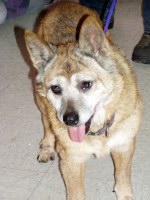 Iris
, a beautiful, gentle girl, came to us at the Sanctuary on December 26 in such bad shape. Brought into the shelter as a stray found wandering an industrial/commercial area of Cleveland, she had terrible bald patches and was completely infested with fleas. But it was her unusual gait and her apparent pain on walking or sitting that caused us to rush her off to the vet that same day. Sadly, an x-ray revealed a very advanced tumor of her rear leg that was extremely painful. Treatment options were few: the tumor was too large and advanced for even amputation to be feasible. Beautiful Iris crossed the Bridge on December 27, 2007. Godspeed, Iris. We so wish there had been more time to show you the love and care that you had apparently missed. Enjoy the sunshine and flowers free of pain and worry.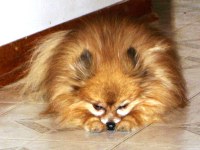 Gucci
, a 15 y/o Pomeranian, was picked up as a stray by City of Cleveland Kennel and was out of other options when he came to the Sanctuary. Gucci is friendly and affectionate, but he becomes very upset and unfriendly when men are present. Gucci's is friendly with other dogs and cats and loves to ride in the car and sit in your lap. Since he was diagnosed with congestive heart failure, he will remain in his loving foster home for life where he is surrounded by love and enjoys the company of several other Sanctuary dogs in need of hospice. Guicci crossed the Bridge after a lengthy illness.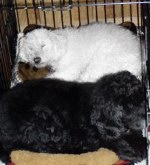 Porter
, an affectionate 14+-year-old Cocker Spaniel, was picked up as a stray by the City of Cleveland. Porter is blind and deaf, but otherwise healthy. He loves to be touched, and he completely enjoys the company of other friendly dogs and humans. He often voluntarily shares a comfy crate with his friend Eugene, enjoying the closeness of another friendly dog. In spite of his physical limitations, Porter loves to explore; he learns his way around the house and yard quickly (finding the garbage can or food dropped on the floor in record time), and he bonds with new people quickly. He is reliably housetrained as long as he understands the routine of the household and is allowed to go outside several times a day. Porter has had both of his eyes removed because of uncontrollable glaucoma. He has healed and is now much more comfortable without the eye pain that troubled him. He has also recently had a benign tumor of the spleen removed. Porter crossed the Bridge on October 25, 2007, of an apparent brain tumor. Godspeed, Porter.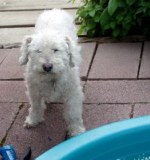 Eugene,
a 14-year-old miniature Poodle/Bichon Frise mix, came to the Sanctuary in poor condition, clearly neglected, both physically and emotionally, for a considerable period of time. His teeth were in terrible shape, and he was matted and very dirty. A thorough veterinary exam revealed that Eugene was in good shape considering what he had been through. He has some arthritis in his neck and back, which is responding well to treatment; he has recently begun to show evidence of mild seizure activity, which is being carefully monitored. In addition, he was diagnosed with Cushings Disease over a year ago. Eugene craves human company and does not like to be ignored. He gets along well with the other dogs in his foster home, but he clearly wants to be the center of attention. Eugene has been with us for quite some time and could be considered for adoption to the right home. But he has a place with us for life should the right home not come along. Eugene joined his many friends at the Rainbow Bridge on December 10, 2007, after a brief battle with lymphoma. Enjoy your new health, Eugene, until we meet again.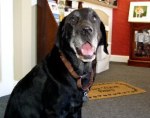 Bryce
, 10-year-old Black Lab/Hound mix, was abandoned, starved, and frightened when he came to the sanctuary several short weeks ago. Bryce is an absolute love of a dog, craving attention and affection. He has had a large benign lump removed from his head and was neutered. He is currently being treated for a medical condition that causes him to lose protein, but he has gained 12 pounds already, and we hope he will gain several more to reach a good, healthy weight. Bryce has some arthritis, but he has responded very well to medication, even running a little in the yard of his foster home recently. Bryce came to the Sanctuary because of the efforts of many people all across the country who networked for him and did not give up until he had found safety. Bryce thanks each of them for helping him get a second chance, and he looks forward to his own special home. For more information on Bryce, please
contact the Sanctuary.
Bryce battled poor health during his stay with us, but he succumbed to a hemangiosarcoma around his heart in December 2007. We miss you, Bryce.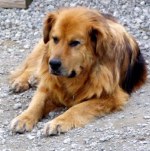 Burt
, a 10-y/o Golden Retriever/St. Bernard mix, came to the Sanctuary from Wayne County where he was picked up collapsed along a country road. He was apparently not injured, just tired out from all of his wanderings although an x-ray much later revealed that he was filled with buck shot and one bullet lodged just to the left of his spine. A handsome fellow, Burt went to live in an area assisted living facility, but a change in management brought him back to the Sanctuary where his gentle disposition and his knack for making people smile made him a logical candidate for Sanctuary therapy dog. Gretchen accompanied Burt to his therapy dog classes and showed him the ropes. He passed his Therapy Dog International test on June 6, 2004, and serves as the newest Sanctuary therapy dog. In January 2005 and again in April 2007, he passed the Delta Society test for therapy dogs. Each week Burt visits A New Day, an adult day care center connected to Lakewood Hospital, where he is developing quite a fan club. He visits area schools and libraries for special events. He has also done work with Harbor Light Hospice in the past. Burt crossed the Rainbow Bridge on November 7, 2007, after suffering a series of strokes. His passing has left a huge hole in all of our hearts. Godspeed, big fellow.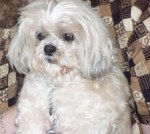 Doodles
is a tiny bundle of love once she gets to know and trust you. At about 10-12 years old, she is deaf, a little slow-moving, and does not like a great deal of excitement. Her preferences are snuggling, relaxing in front of the TV, and cuddling up to keep warm on long winter nights. Doodles gets along well with other animals, including friendly larger dogs. She is generally healthy although she requires ongoing treatment for dry eye. Before Doodles came to the Sanctuary, she was apparently debarked, so she lets you know that she has to go outside by her body language. She is mostly housetrained, but she would need patience while she adjusts to your schedule.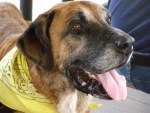 Sergio
, a 7-year-old Great Dane mix, came to the Sanctuary, after being picked up by the City of Cleveland, very thin and neglected but with high spirits and lots of love to give. He is scheduled for a neuter as soon as he gains a few more pounds (his ideal weight is about 80 pounds), and he will be ready for his very own home once his neutering is complete. Sergio is one of the friendliest dogs we have ever met. With some basic training, he would make an excellent therapy dog or just a great best friend to you and your family. Sergio needs to know what it is like to be loved unconditionally and to be cared for and valued as a family member. Please find room in your home for a wonderful older fellow.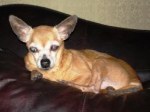 In early 2004,
Pedro
was found on the cold streets of Cleveland by the City of Cleveland Kennels. At 16 years old with a grade 6 heart murmur, we knew that he was not a good candidate for neuter surgery, so we brought him into our hospice program. Because of his delicate health, we believed that he would not have long to live, but over a year later, much to the delight and surprise of everyone who knows him, Pedro is still going strong, enjoying the good life in his foster home. He shares space with several other small dogs, some of them also permanent hospice residents, and he loves every minute of it. When he is not barking and playing, he loves to cuddle. Pedro is enjoying his golden years and receiving the love and care that every dog deserves.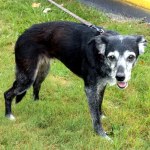 Marguerite
, a 10-12-year-old Italian Greyhound mix, is a petite and mannerly little lady who will stay in her Sanctuary foster home for life because she has developed kidney disease. She was dumped at the door of the City of Cleveland Kennel where she spent her first few hours with the staff because she was so frightened. She loves new adventures, and she always has a wagging tail and a smile for the new people she meets. A small mixed breed girl with an endless capacity for love, Marguerite bonds very quickly with people who treat her with kindness. Narguerite crossed the Bridge after a brief battle with kidney disease.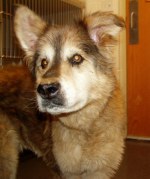 Frisco
, a beautiful eight-to-nine-year-old Collie/Husky mix, came to the Sanctuary when Cleveland Kennel officers found him abandoned and chained to a garbage can. He is painfully under weight (about 45 pounds; ideal weight probably more like 55-60) but heartworm negative and very energetic although a bit frail because of his ordeal. He also appears to be a bit hard of hearing. Frisco enjoys the company of other dogs, and he had no reaction to the clinic cat when tested. The vet reports that he was poked and prodded during his physical exam, but he remained friendly and cooperative. Very loving and friendly to everyone he meets, Frisco is starved not only for food but also for affection. Shortly after he came to the Sanctuary, he developed a serious case of kennel cough that threatened to turn into pneumonia, but he is now on the road to recovery. If you have a special spot in your home and in your heart for a poor old dog who has been severely neglected and richly deserves a family full of love, please contact the Sanctuary. Frisco will not disappoint you. Frisco crossed the Bridge in March after an ongoing battle with kidney disease. His gentle spirit is missed by all who had the privilege to know him.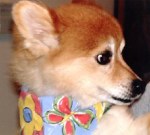 Peaches
, a 10-year-old Pomeranian, was abandoned by her family after her elderly guardian passed away. She loves to sit cuddled up in your lap for an afternoon of affection; she is also very active and enjoys exercise and leisurely walks. She loves to be the center of attention. Peaches is a healthy, spayed female who has a lot to offer to the right family. She is not comfortable around small children and would do best in an active adult home. She gets along well with most dogs and cats, but she would be happy as an only dog as long as she is showered with affection and attention. Peaches crossed the Rainbow Bridge early in 2007 after a battle with Cushings Disease and heart failure.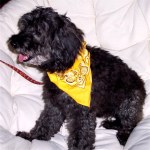 Raggs
, a handsome 12-year-old Poodle mix, is a permanent resident of the Sanctuary because he has developed some serious health problems, including Canine Cognitive Dysfunction in addition to his blindness. He is a real sweetheart of a dog even though someone threw a caustic agent in his eyes, apparently consciously trying to blind him. He has severely limited vision as a result and is a little hard of hearing, but he is loving, trusting, and calm. Partial blindness is clearly not a limitation to Raggs; he learned his way around his new foster home in record time. Originally a stray from Lorain County, Raggs has found a permanent home at the Sanctuary. Raggs crossed the Rainbow bridge early in 2007 after a brief battle with bladder cancer.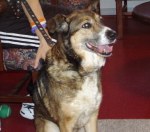 Zetta
, an 8- to 10-year-old Shepherd/Whippet mix, is a sweet-natured dog who is loving and trusting despite what must have been long years of abuse, starvation, and total neglect. Her loving and forgiving nature is evident from just one look into her gentle eyes. She gets along extremely well with other dogs and cats; her foster caregiver operates a day care in her home, so she is constantly meeting and making new friends. Zetta is hard of hearing (she can hear loud sounds and some deep sounds), but she is quickly learning hand signals. A little shy at first, she warms up quickly. She would make an excellent companion for an older adult or couple who spend a lot of time at home but enjoy walks in the park. Zetta crossed the Rainbow Bridge un January 2007 when she no longer found relief from her medication.


Those who live in our hearts never really die.
Copyright 2009
No part of this web site, including photographs, may be reproduced without written permission